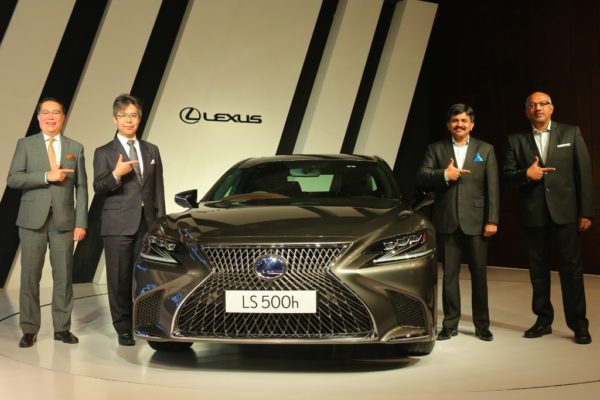 Global luxury car maker Lexus announced the launch of its flagship sedan LS500h in India starting at Rs.1.77 Crore. One of the most anticipated premium car launches after it was first displayed at the Detroit Motor Show last year, the LS500h is available for booking from 15th Jan 2018 onwards. The original luxury disruptor, the Lexus LS has for nearly three decades set benchmarks for powertrain smoothness, ride quietness, craftsmanship, attention to detail, documented dependability and long-term quality.
"For those who have arrived in life, the Lexus LS500h has now arrived in India. We are so thrilled to be adding the LS500h to our line-up here. When we think of the exacting standards of the most discerning Indian car owners, we are confident the new LS will impress and delight – through its design, its performance, and the efficiency of the world's first multi stage hybrid system," said N Raja, Chairman, Lexus India.
P.B Venugopal, President, Lexus India added, "This is a car crafted for someone who has known the pleasures of dining at Michelin-starred restaurants, holidaying at the best resorts and generally being at the top of their game. The LS500h delivers beyond passion in ways that are wholly uncompromising so that the daily commute is transformed to an experience of epically luxurious proportions."
Lexus began its journey in 1989 and has, since then, expanded its line-up to meet the needs of luxury consumers around the world. It is now going beyond its reputation for high quality vehicles with the integration of innovative technology, emotional exterior and interior designs, and engaging driving dynamics and performance. Lexus is the luxury hybrid leader, having sold over a million hybrid vehicles globally. Lexus vehicles are sold through a network of dealers who are committed to delivering exemplary guest experiences.