In continuous efforts towards its various initiatives in the area of Skill Development, Toyota Kirloskar Motor (TKM) today organized a seminar for the Toyota Technical Education Program [T-TEP] stakeholders followed by a skill contest for the [T-TEP] instructors.
While the annual seminar provides a common platform for all T-TEP stakeholders to share their best practices and standardize operations and activities across T-TEP institutes network in India, the skill contest is a motivational engagement for all the T-TEP Instructors where the winners were awarded by the TKM Senior Management under the respective categories.
T-TEP is a special training module launched in 2006, where Toyota associated with 50 industrial training institutes [in a phased manner] across the country. The program is aimed at educating and providing technical training with hands-on real time experience to ITI students in Toyota dealer outlets. In its first year, the program was implemented in Delhi, Mumbai, Chennai and Hubli.
The program was subsequently introduced nation-wide covering Bengaluru, Mysuru, Lalru, Pune, Cochin, Ahmedabad, Hyderabad, Ghaziabad, Kolkata, Jaipur, Jalandhar, Indore, Vizag, Ludhiana, Cuttack, Haldwani, Nalbari, Gurgaon, Satara, Paramakudi, Chalakudy, Mangaluru, Calicut & Nashik. Till date, around 7,000 students have successfully completed this program, out of which more than 63% are employed at various dealerships of Toyota in India.
This distinctive initiative by Toyota represents the incessant efforts taken by the company to bridge the skill gap that exists in the industry by developing trained personnel to meet the ever-increasing demand of the emerging industry for skilled resources. Toyota is synonymous with Quality and the company ensures that they train and equip their students with the best knowledge to thrive and succeed in the industry as professionals towards achieving employability status. This technical education program focuses to augment the technical abilities and employability of Industrial Training Institute (ITI) students in the age group of 16 to 18 years. The program supports in developing skillful technicians for the Indian automotive repair industry. The current scenario of the automobile repair industry is characterized by low skilled manpower and lack of professional training for repair and diagnostics of vehicles to meet the evolving needs of the market requirements.
This annual seminar is organized to create a common platform for all the stakeholders including TKM personnel, T-TEP Institutes, Dealer partners and Supplier partners under one roof exchanging the best practices & challenges with regard to T-TEP operations and its training modules, which also includes thrust on TTEP future expansion plans. The event also witnessed TTEP students presenting new ideas / innovative methods to widely promote the Kaizen [continuous improvement] culture among all the participating stakeholders.
This holistic program also hosted a skill contest, a motivational activity for all the T-TEP Instructors. The contest was divided into four categories namely General Technician, Service Advisor, Auto Body Repair and Auto Paint Repair. The participants were the T-TEP instructors who were evaluated on various parameters such as presentation skills, basic automotive knowledge (measuring tools/ engine/ electrical equipment operations skills, welding knowledge/ repair panel skills, colour matching/ top coating skills, etc) in their respective categories. The winners were certified by the Toyota's Senior Management for each of the categories.
This forum facilitated the supplier partners to showcasing various skill enhancement activities for the ITI / Diploma students with advanced technology displays covering linkage of new training methodology for T-TEP students, to largely enhance their global competitiveness on skills and knowledge-how.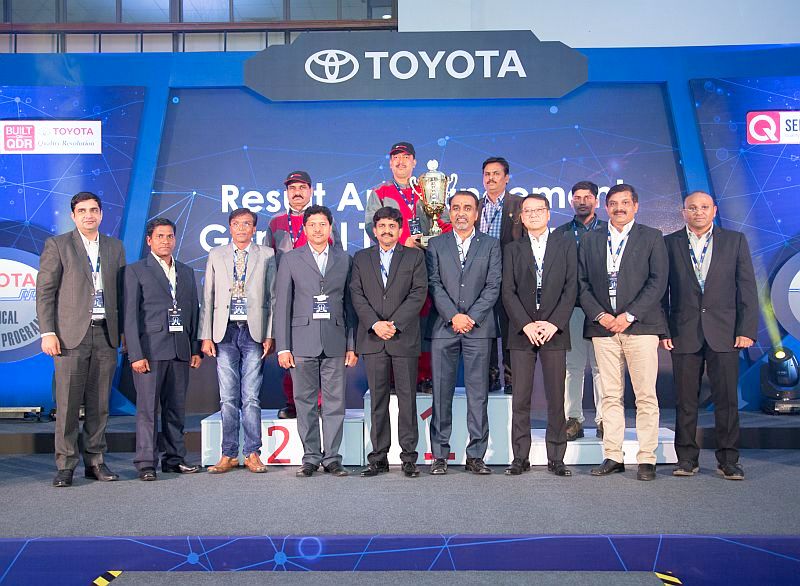 The event was graced by senior representative, Mr. N. Raja, Deputy Managing Director of Toyota Kirloskar Motor in the presence of relevant stakeholders including TTEP instructors, supplier partners, ITI / Diploma students from institutes and institutional dignitaries.
Expressing his views on the occasion, Mr. N Raja, Deputy Managing Director – Toyota Kirloskar Motor said, "Brand Toyota stands for Quality. We at the leadership team also believe and practice the same philosophy and try to implement that in our programs and initiatives. We have a process through which the T-TEP institutes nominate regular automotive trade instructors [T-TEP instructors] who are eventually trained and certified by TKM. This way, we identify the gaps that may exist in terms of skill sets that is required to impart the best technical training and knowledge amongst our students. This also enables us to increased competency levels, ensure capacity building of the TTEP instructors to train the trainees.
There is a growing need to enhance the quality and stay relevant with the current skill sets. *As per the figures released by the National Sample Survey, out of the 470 million people who are in the working age group, only close to 10% receive any kind of training or access to skilled employment opportunities [*media sources].
Through Toyota Technical Training Program, we aim to enhance the students' skill levels with the required theoretical knowledge along with practical exposure to confidently function in a seamless manner and contribute to succeed in their respective roles and functions. Our focus is not only to support rising demand for skilled manpower, but to match the skills programs being future-ready to meet industry requirements." he added
The SA T-TEP, a 1 year syllabus, introduces students to Toyota's advanced technologies and service techniques. It also includes on-the-job training at Toyota's dealerships. As part of this program, TKM will also train institute instructors on the technological advancements & best practices of Toyota & in the automobile field. TKM plans to further expand this program to technical institutes across the country in the coming years and reach out to many more students to enhance their skill sets. The project is jointly funded by Toyota Motor Corporation (Japan and Toyota Kirloskar Motor). Together they provide T-TEP institutes with hi-tech training packages and Toyota service training manuals and materials.
T-TEP is widely recognized across the globe for its effectiveness. The program has been successfully introduced in 508 institutes across 55 countries by Toyota, which includes USA, Australia, Italy, South Africa, China, Vietnam and India.