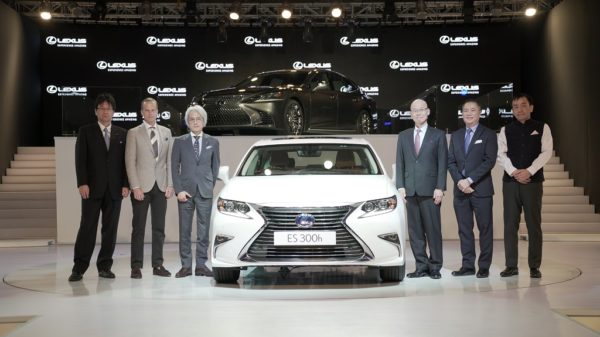 Japanese luxury car maker Lexus made its debut in the Indian market with the launch of 3 new models. Lexus is the luxury passenger car division of world's leading auto carmaker Toyota.
At the launch, Lexus unveiled three models chosen with the Indian driver in mind the RX 450h, ES 300h, and LX450d vehicles.
The all-new Lexus LS made a surprise appearance in a sneak preview at the end of the show which also hints its Indian debut in the future. The company will most likely launch the car in 2018.
In the words of Lexus International President, Yoshihiro Sawa, "The original LS rivaled the very best luxury vehicles. We had big dreams about what a luxury vehicle could be. Those dreams were realized with a vehicle and guest experience that disrupted the luxury automotive industry."
The models will be available at guest experience centers located in New Delhi, Gurgaon, Mumbai, and Bangalore. Additionally, after sales service facilities will also be available in Chandigarh, Hyderabad, Chennai and Kochi.
Hybrid Focus
To distinguish itself from other Luxury car makers, Lexus will focus on hybrid models. The choice to focus on hybrid vehicles shows a clear understanding of the Indian consumer – they have an instinct for luxury, which is coupled with sensibilities around the need for high-performing yet eco-friendly vehicles.
The cars will be launched as CBUs imported from Japan.
Prices ex-showroom Delhi
ES 300h – 55,27,000
RX 450h Luxury – 1,07,29,000
RX 450h Sport – 1,09,61,000
LX 450d – 2,32,47,000
Speaking about Lexus' plans for India, Lexus India Senior Vice President, Akitoshi Takemura said: "How India experiences luxury is evolving with its affluence.
Lexus will be providing the Indian consumer with an amazing experience through our vehicles, our service and through any interaction with our brand. We are excited about what we can bring to the luxury market in India, where we see opportunities mapped to the remarkable growth the country is experiencing. This is just the beginning, we look forward to bringing more exciting products to India in the future."
The first Lexus LS was, and continues to be, a game-changer for the luxury automotive industry, and Lexus supported that groundbreaking vehicle by setting and maintaining new standards for customer service and satisfaction. Lexus plans to do the same here with dedicated relationship managers and 24/7 guest call centers. Discover more about the Lexus brand and its products atwww.lexusindia.co.in.