After hitting the streets of New Delhi, car-maker Honda today launched its most important car for India, the Honda Amaze at an event in Mumbai. The Amaze is Honda's first diesel offering in the country and is also the first sub-4-metre saloon for the brand. The compact saloon is available in four trim levels – E, EX, S & VX and here are their pre-octroi prices for Mumbai:
1.2 E MT (i-VTEC) Petrol        :  Rs. 5,35,067/-
1.2 S MT (i-VTEC) Petrol        :  Rs. 6,02,107/-
1.2 EX MT (i-VTEC) Petrol      : Rs. 5,61,296/-
1.2 VX MT (i-VTEC) Petrol     :  Rs. 7,05,764/-
1.5 E MT (i-DTEC) Diesel        :  Rs. 6,49,048/-
1.5 EX MT (i-DTEC) Diesel      :  Rs. 6,74,338/-
1.5 S MT (i-DTEC) Diesel        :  Rs. 7,07,289/-
1.5 VX MT (i-DTEC) Diesel     :  Rs. 8,017,34/-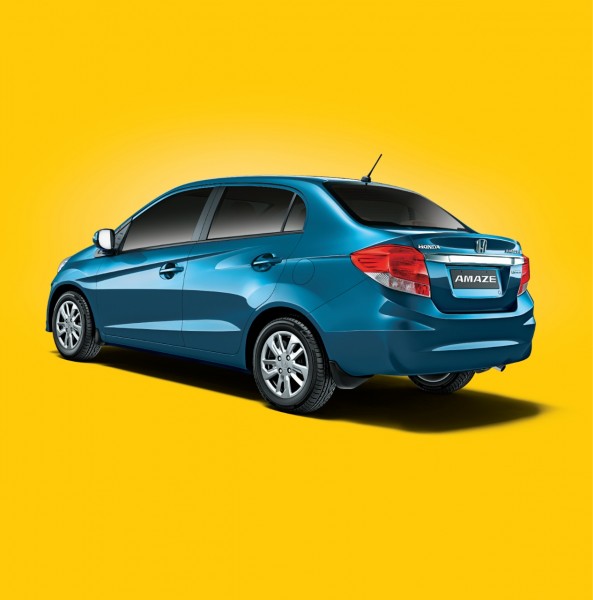 Like the Brio hatchback, the Amaze is also available with an automatic transmission in its Petrol spec. The automatic variants however, are only available in the top-two trim levels and the following are their prices:
1.2 S AT (i-VTEC) Petrol         :  Rs. 7,07,967/-
1.2 VX AT (i-VTEC) Petrol      :  Rs. 8,00,292/-
The Amaze is manufactured at Honda's greater Noida plant in U.P. and hence there is a significant price difference in Mumbai, in comparison to the pricing of the sedan in the NCR-region.  The Diesel spec, which is expected to generate a majority of the volumes, has been priced exactly on par with the Maruti Dzire and so it will be interesting to see how the sales figures for both manufacturers look like at the end of this month.
Here are a few pointers from the Amaze launch event held yesterday in New Delhi:
Honda has announced six body colors for the Amaze – Blue, Red, Titanium, Silver, Black and White.
The 'Smart Compact Limousine,' as Honda calls it, is available with a 1.2 litre Petrol and 1.5 litre Diesel engine. The Petrol unit is shared with the Brio hatchback and produces 88PS @ 6,000 RPM and 109Nm @ 4,500 RPM.  The 1.5L i-DTEC engine on the other hand produces 100PS @ 3,600 rpm and 200Nm @ 1,750 rpm.
Fuel efficiency for the 5-speed Petrol MT is 18 kmpl while the 5-speed Petrol AT variant returns 15.5 kmpl.
The Amaze Diesel is India's most fuel efficient car with an ARAI certified fuel-efficiency figure of 25.8 kpl. Surprisingly, it also has a class leading power output of 100 PS, which is a bonus for both enthusiasts and fuel-efficiency aficionados.
The car comes with a heat-absorbing front windshield on the S and VX trims which reduces cabin temperature by 6 degrees centigrade when parked under the sun for 20 minutes.
The Honda Amaze was developed at Honda's R&D center in Bangkok with strong focus on requirements of Indian customers. This is claimed to be Honda's most strategic model yet and hence India is also the first market to receive the 1.5L i-DTEC engine, through the launch.
Boot space capacity for the Amaze is an interesting 400 liters, which is noticeably bigger than the Dzire's trunk and should offer adequate cargo capacity for weekend holiday luggage.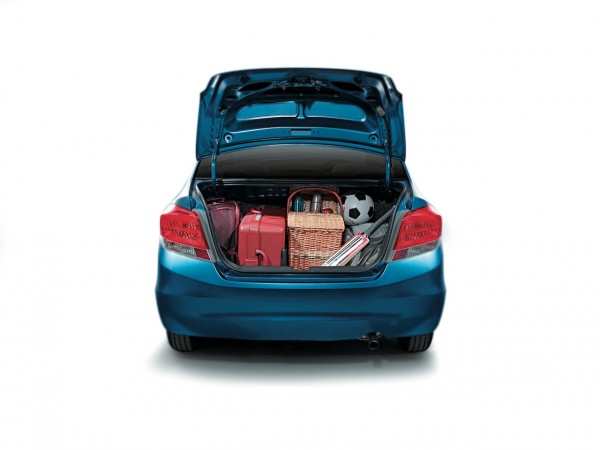 Safety features include dual front airbags, anti-lock brakes, electronic brake-force distribution and a front body structure designed to reduce pedestrian injury in case of collision. Honda has also made ABS and EBD standard on all Diesel and A/T variants.
Honda says that the lack of a Diesel City lost it a sizeable amount of customers to other entry level offerings in the market. The company believes that the Amaze will rectify that.
The Japanese car-maker says it has kept maintenance costs and after sales service as a priority for the Amaze. We can't wait to hear the same from its German counterparts.
Deliveries of the Amaze have already begun and Honda promises to increase the web to 162 dealer outlets in 102 cities by the end of the current financial year.
According to Honda, 63% customers for Amaze are expected from Tier 2 and Tier 3 cities
At present, the company's Greater Noida plant capacity is limited to a 10,000 cars a month, which may result in exceptionally long waiting periods for customers. Honda however plans on adding manufacturing capacity at its second plant in Rajasthan next year to reduce waiting periods.
Honda had already recorded bookings in excess of 25,000 even before announcing the prices. As a result, the Amaze currently holds a waiting period of 8-10 weeks across the country.
If all goes well, we will try and do a detailed review of the Amaze Diesel in the coming months. For now, you can post your queries in the comments section, if you have any.