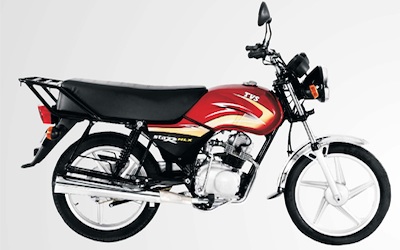 Indian two wheeler maker TVS Motors introduced the new Star HLX 125 motorcycle in Tanzania. Developed specially for the needs of the African market the Star HLX 125 is based on the TVS Max 4R which was launched a couple of years back mainly to target the rural market and provides a good combination of power, fuel efficiency and comfort.
The Star HLX 125 is positioned as Ultimate Earning Machine and is targeted to commuters who use the two-wheelers for commuting to point A to B for work purposes. The main target segment is popular Boda Boda (two-wheeler taxi) segment in the country.
The Indian Max 4R is powered by an 110cc engine, which the Star HLX is powered by a 125cc EcoThrust' engine which develops max power output stands of 11 bhp (8.2KW) @ 8000 rpm and the automaker claims a fuel economy of 60 km/l.
The bike comes with basic and rugged design which features a long seat, alloy wheels, electric starter and third pair of integrated foot rests. One can choose between two colour options Flame Red and Polyester Blue.
TVS is the second largest two & three exported and has been exporting its products to over 60 countries in Asia, Africa and Latin America. The company has a good presence in the African continent with products such as the Star, Max, Victor, Apache RTR and Jive.