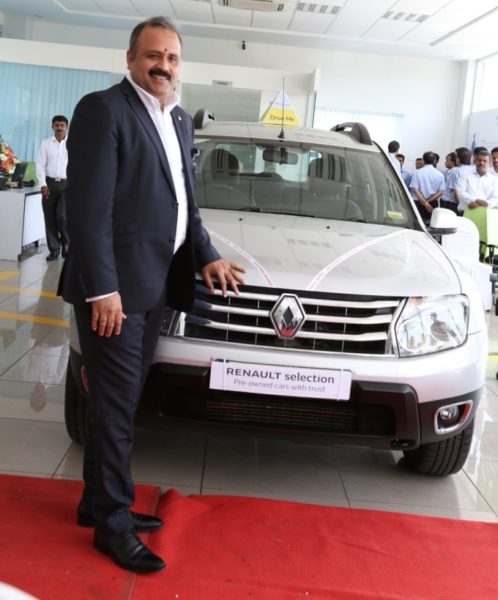 Renault India has entered the organised used car maker with the launch of Renault selection is a platform for customers interested in buying, selling and exchanging certified pre-owned cars of all brands.
Renault inaugurated their first used car facility of Renault selection in the IT capital of India Bangalore (RENAULT selection Whitefield). The company will expand the used car dealerships across Indian in the next two years.
RENAULT selection is the pre-owned car brand of Renault India which provides customers a transparent and reliable platform for customers interested in buying, selling and exchanging certified pre-owned cars of all brands with optimum deals on finance, insurance, warranty and Road Side Assistance (RSA). Through this business vertical, Renault will also cater to customers wanting to sell multi-brand used cars in exchange for a brand new Renault car.
Renault made the announcement today, with its partner Trident Auto at its facility located in Whitefield. The state- of-the-art multi-brand pre-owned car outlet is spread over 21,000 square feet, which facilitates sale, purchase and exchange of both Renault and non-Renault branded vehicles. The facility can accommodate 100 cars at any point in time, giving customers complete freedom of choice.
The pre-owned car market in India has steadily gained momentum over the past decade, spurred by new model launches, quicker upgradation cycles by customers and rising income levels. There are several customers looking for a value purchase in the pre-owned car market, with an experience that provides complete peace of mind. There are also numerous customers who want a trustworthy platform to sell cars, or exchange it to buy a new Renault vehicle. With RENAULT selection we will address these needs, by offering customers the best quality of multi-brand pre-owned cars, as well as Renault's segment defining products."
The pre-owned car market is getting increasingly organized and has immense potential. Through RENAULT selection, Renault will help most of the first-time car buyers fulfil their dream of owning a car. It will also serve existing Renault customers wanting to buy a new Renault car, to exchange/upgrade his vehicle under one-roof.
RENAULT Selection will start operations in India with 4 facilities planned in Bangalore, Jaipur, Nagpur and Chandigarh. These state-of-the-art outlets shall offer a wide choice of certified multi-brand vehicles to customers, along with warranty and RSA and an unmatched customer experience. Renault will expand the foot print of RENAULT selection to all significant markets in the coming years.