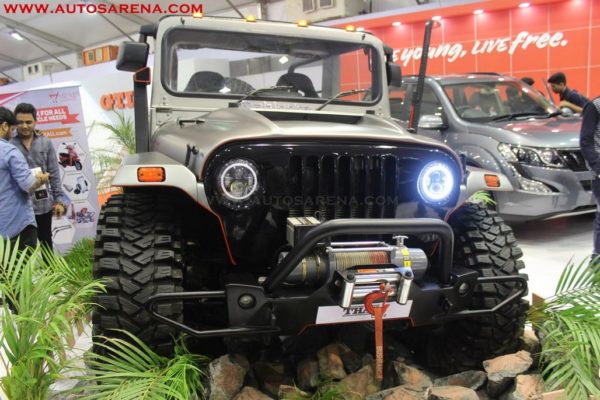 You can buy the Mahindra Thar DayBreak Edition for Rs. 21 lakhs.
Mahindra showcased the Thar DayBreak Edition at the 2017 Autocar Performance show. DayBreak Edition is priced at Rs. 21 lakhs inclusive of the vehicle while one can also opt for the kit which costs Rs. 9.6 lakhs.
The vehicle was first show at the 2016 Auto Expo and also made its appearance at the Mahindra 4×4 festival held in Goa.
The vehicle is built by Mahindra Customisation division which can further customize the vehicles as per the customers need.
The Daybreak edition features matte grey exterior color, projectors headlamps with LED ring, Metallic black front grille, re-profiled front fenders, bonnet scoop and an electric winch.
On the side the huge 37-inch Maxxis Trepador tyres certainly catch your attention. The body has been customised giving the SUV a compact look. ORVMs have been mounted up at top of A-pillar while the air intake is neatly designed which protrudes from the bonnet.
The vehicle comes fitted with man off-roading equipment and definitely has a go anywhere attitude. One can opt for a fixed solid roof for Rs.1.5 lakh extra.
Interiors get bucket seats with a single bench at the rear, red finishes on the dashboard and air vents. The DayBreak edition also gets a touchscreen infotainment system.
The delivery period for the customised Thar is 2 months and an individual can also demand for further customisation.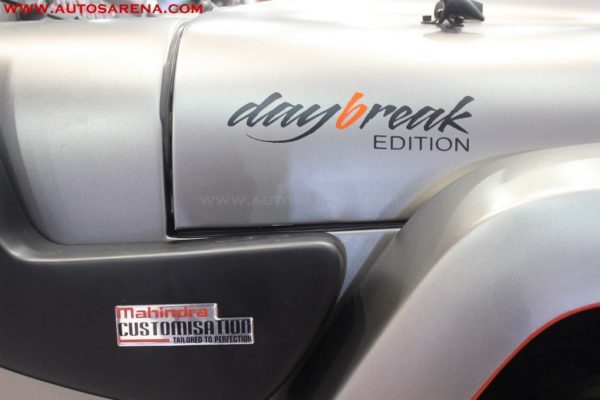 There are no mechanical changes to the SUV and the vehicle comes with a 2.5-litre CRDe engine which produces 79 kW (105 bhp) at 3,800 rpm and 247 Nm of torque between 1,800-2,000 rpm.
Transmission option includes a 5 Speed Manual for the 2WD and additionally also gets a BORGWARNER (Manual Shift) with High & Low Reduction Gear Transfer Case for the 4wd variant.
Thar DayBreak Edition walk-around at 2016 Auto Expo
Image gallery