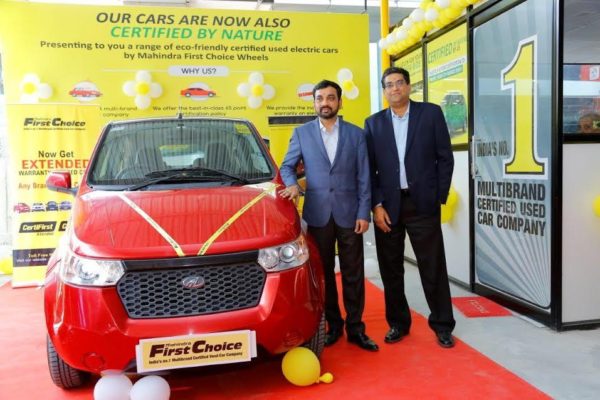 Mahindra First Choice Wheels Ltd. (MFCWL), the multi-brand certified used car company of Mahindra has inaugurated India's First Certified Pre-owned Electric Vehicle outlet – Car Connect.
The new outlet is located at HSR Layout in Bengaluru and was inaugurated by Dr. Nagendra Palle, MD & CEO, MFCWL and Mr. Mahesh Babu, CEO, Mahindra Electric Mobility Ltd.
With the new Car Connect outlets MFCWL will now also cater to customers looking for certified pre-owned eco-friendly electric vehicles, this is a first in the industry and will help to boost sales of electric cars.
Mahindra has also introduced ELEKTRICFIRST warranty program.
The warranty program covers electric and electronic components of the car, including battery, battery pack parts and the drive train, thus offering the customer comfort with a pre-owned electric vehicle purchase. Customers can choose between ELEKTRICFIRST and ELEKTRICFIRST+ warranty options.
The used electric cars will undergo the same inspection process and will get certified under Mahindra First Choice's used car evaluation.
Mahindra First Choice Wheels has nearly 1200 multi-brand used car outlets across the country and has grown its network at a rapid pace of nearly 50% a year, over the last 5 years.
The new initiative will help to boost sale of Mahindra Electric which sells vehicles like the E2O Plus, eVerito and eSupro. Going ahead, Mahindra is planning to introduce more products in the electric space and we can expect the company to introduce an electric SUV and a smaller car.