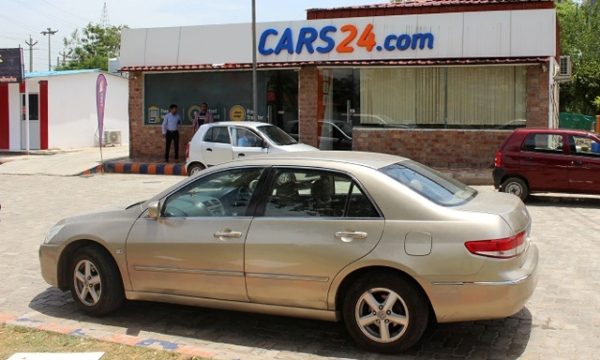 India's automobile industry is one of the fastest growing in the world and it is already the sixth largest globally. People are not only buying new cars but the ownership cycles are also shortening. With higher disposable incomes in hand, people now prefer retaining a car for 4 to 5 years and then selling it off for a brand new one. All this has generated momentum for a vibrant used car market in India.
Till a decade ago, used cars were often sold within a trusted circle. Sensing the business opportunity, automotive companies like Maruti, Mahindra and Ford jumped in to sell certified used cars. With the arrival of these automakers, the prices of used cars saw a gradual surge thereby making the deals expensive for both the buyer as well as the seller.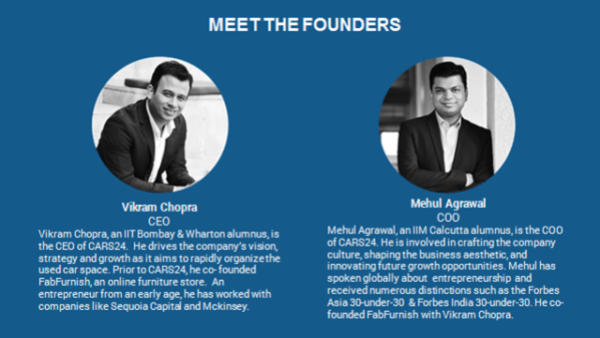 Thankfully, this is exactly where a relatively new company called Cars24 stepped in with an all new business model that is not only transparent but also hassle-free and a reliable way of selling cars. Founded by Mr Vikram Chopra and Mr Mehul Agrawal in 2015, CARS24 today has 52 branches across 11 cities in India and has auctioned more than 1 lakh cars through its network.
So instead of wasting precious time in listing the car on websites, newspapers, taking numerous calls, meeting multiple buyers, facing last-minute buyer back offs, delayed payments and an endless wait for the ownership transfer, all that a seller needs to do is book an appointment with any of the CARS24 branches, get the best price for the car through scientific inspection and live online auction, in which thousands of authorized buyers participate to buy the car. Moreover, CARS24 also offers instant payment & free RC transfer once the owner sells his/her car.
CARS24 buys cars directly from the owners in just one visit and is steadily revolutionizing the way used cars are sold in India. What enables CARS24 to execute this task in a seamless, reliable and consistent manner is the cutting-edge technology at play.
What enables CARS24 to execute this task in a seamless, reliable and consistent manner is the cutting-edge technology at play.
How Technology Drives CARS24?
PRICING ENGINE
The online quote generated by CARS24 when an interested car owner registers for an inspection is determined through an in-house algorithm based on CARS24's extensive transaction history, through which it is able to predict the most accurate market value of any given car. This goldmine of information is built on the foundation of 1 lakh plus auctions that we have conducted so far.
INSPECTION APP: – Used by our in-house car experts to upload scientific inspection reports of each car that rolls into CARS24 for an inspection.
●     Scientific Inspection
a)   The process includes measurements leveraging devices such as Paint Spectrometer, Tire Tread Gauge and OBD (On-Board Diagnostics) Plugin Device to generate highly objective reports.
b)   Highly experienced evaluators selected after extensive in-house training. The car experts are regularly updated with live technical lab sessions for enhancing their evaluation expertise.
c)    The Inspection App is developed in-house and houses extensive data from past inspections by CARS24, which is in tune of over one lakh cars.
d)   Precise inspection reports based on the history of critical issues that typically appear in the same make/model in question.
e)    Digital inspection report and detailed pictures with overall scores in each department and their possible refurbishment costs are uploaded to the inspection app.
f)   The standards set by CARS24 ensure that its inspection reports are accurate and are extremely hard to critique. Authorized buyers, solely on the basis of our scientific inspection report, transact with CARS24 online, worth lakhs.
AUTHORIZED BUYERS APP: – Used by each authorized buyer to participate in the live-online auction and avail various support services offered by CARS24.
●   Live Online Auction
a)    In-house developed app, used by thousands of authorized buyers to get real-time access to the cars with the detailed scientific inspection report and refurbishment costs for each vehicle.
b)    Thousands of buyers constantly bid on cars, irrespective of the location, on the basis of the inspection report. This ensures a car owner always gets the best price for his/ her car via the market competition.
●   Authorized Buyer Support
a)  The authorized buyers get access to thousands of cars and can submit offers sitting in the convenience of their homes / offices.
b) The added convenience of payment wallet, home delivery of cars, car tracking system and financing options make the buying process easy and seamless for an authorized buyer.
Addressing the gap that CARS24 aims to fill, Vikram Chopra, CEO CARS24, said, "Unlike new cars, used cars don't come with a price tag. This makes it very difficult for the car owner to know the right price for his / her car. While a car owner might be able to meet a handful of interested buyers, there is a limit to the number of people an individual can reach out to know the right price for the car. So we, at CARS24, provide an online auction platform that lets thousands of authorized buyers to bid on the car from every part of the nation – this market competition gets a car owner the best price for his/ her car.
Even after selling the car, getting complete payment and ensuring RC transfer are major pain points for every seller out there. We understand this and hence offer instant payment and free RC transfer once the car is sold."
CARS24 has simplified the process of used car transactions in an industry that is witnessing a steady growth of 15% each year. CARS24 believes, with its USPs – Best Price Guarantee, Instant Payment and Free RC transfer – it is poised to grow considerably, as it sets to expand its operations across India.
#  #  #   PHOTO GALLERY   #  #  #