Yamaha Motor India Sales Pvt. Ltd., today, organised the grand finale of its 'Mission 10000KM' at YMCA ground in Chennai. The entire day witnessed exciting customer engagement activities like Yamaha Children Safety Program, Zippy Music Circle, test drives and service camps. The evening witnessed the closing ceremony of Yamaha's Mission 10000km. Mission 10000 Km – Discovery of India on FZS – FI, started at the nation's capital on 14th Sept, where the 20 riders from the 2 teams, East Side Eagles and Wild West Falcons, were joined by Yamaha Motor India brand ambassador, John Abraham who officially flagged off the ride. Of the two teams of 10 bikers each, one was headed towards the East and the other, towards the West. The two teams rode 5000 kms each before reaching Chennai today.
Commenting on the occasion, Mr. Masaki Asano, Managing Director, Yamaha Motor India Sales Pvt. Ltd, said: "Yamaha is a young, sporty brand and we developed this initiative to encourage safe and congenial bike riding across the nation with a theme of 'Discovering a whole new India in its truest form'. Yamaha's 'Mission 10000KM' has indeed been a great journey not only to re-discover India but also re-discover our own selves. Our riders I'm sure have many stories to share about their journey. The official vehicle for this initiative was our recently launched fuel injected 'Yamaha FZS – FI Version 2.0' featuring our new technology concept called 'Blue Core' which stands for fun riding and economy which is also the official vehicle for this expedition. With such offerings and various customers connect initiatives like 'Mission 10000KM' we want to encourage the concept of 'Touring' in India."
On this occasion, the company also took the opportunity to introduce, its Blue core concept in New Stylish Commuter 'SZ-RR Version 2.0' – an upgrade to its existing SZ-RR bike launched last year. The new model based on Blue Core development ideal is powered by a newly designed air-cooled 149cc 4-stroke, SOHC, single-cylinder engine. With the launch of this new model targeted at married men between the ages of 24-35, the company hopes to see a significant growth in the customer base, especially keeping in mind the mileage conscious target audience.
Commenting on the occasion, Mr. Roy Kurian, Vice President, Yamaha Motor India Sales Pvt. Ltd, said: "It is our pleasure to be launching the all new SZ-RR Version 2.0 this festive season at the closing ceremony of our successful endeavour of 'Mission 10000km'. With our breakthrough technology 'Blue Core' now inducted to our successful SZ-RR model, we want to present our customers with advanced choices and fun riding in the city. Looking at the demand for standard segment commuter motorcycles which is projected at 1.1 million units in 2014, it was indeed ideal for us to delight customers in this segment with the launch of SZ-RR Version 2.0."
The new SZ-RR Version 2.0 has been newly developed with Yamaha's New Generation Engine Development Ideal – 'Blue Core' that takes riding enjoyment, fuel efficiency and environmental performance to all-new levels. Its key features include (1) A new engine that maintains the feeling of power delivery from the original SZ Series models while greatly improving fuel efficiency (11% improvement vs. 2013 model), (2) Newly designed tubeless tires, (3) Newly designed instrument panel and (4) an array of other features that make it worthy of a 150cc class model, like a handlebar holder with the "SZ" logo and shroud fitted to add a more sporty character.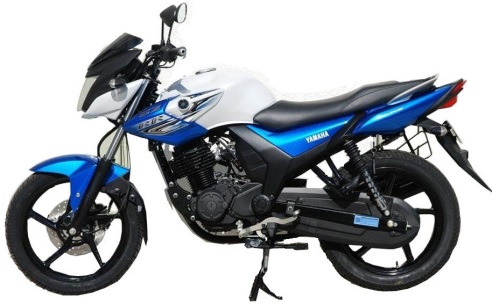 Name

Launch date

Ex-Showroom

SZ-RR

(Red Dash, Ivory White, Green Arrow)

19th Oct 2014

` 65,300/- (Delhi)

` 66,461/- (Chennai)
With the new launch, the company is confident that it will be able to make new inroads in the customer base, especially those who are fuel economy conscious. The company is very bullish on the new launch and is very confident that it will help to maintain the strong growth numbers the company has witnessed in last few years.