India Yamaha Motor (IYM) Pvt. Ltd. today announced the launch of the all new FZS-FI (149 cc) motorcycle at an attractive price of Rs.86,042/- (Ex-showroom Delhi).
The new FZS-FI motorcycle will now offer 220 mm hydraulic single rear disc brake and 282 mm front brake, thus greatly improving stability and control. Adding to the aesthetics, it gets a sporty wheel design along with a completely new mirror design. While nothing much has changed in the styling department, the FZS-FI gets a new paint shade called Armada Blue along with an advance midship muffler, skid-free split seat  and an updated instrument panel.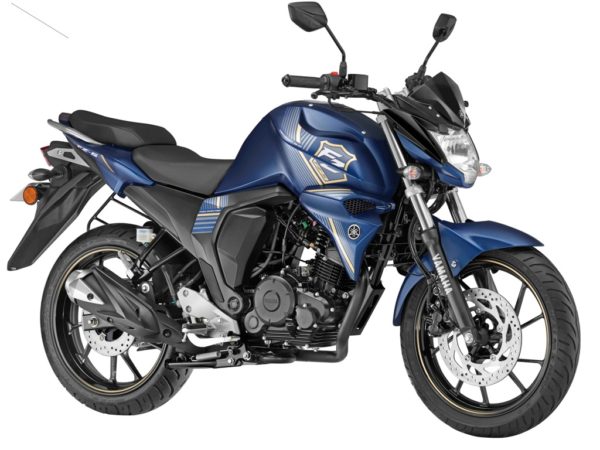 Speaking on the launch, Mr. Roy Kurian, Senior Vice President, Sales and Marketing, Yamaha Motor India Sales Pvt. Ltd. said, "The legacy of Yamaha's FZ series in India is all about the inheritance of a unique motorcycling passion. Immensely popular with Indian bikers all the way through almost 10 years from the day it was launched in India, and winning over a million hearts, it was crowned to become the 'lord of the streets' by the collective culture of the country's motorcycling. While its best seller features like build and appearance, superior engine technology, fuel mileage and suspension are retained, the new additions will excite the present and new customers."
Bringing together Yamaha's Blue Core technology and improved braking system, the new FZS-FI motorcycle offers unmatched experience and performance efficiency. The all new FZS-FI motorcycle is a response to the needs and requirements of Yamaha's customers, prioritising performance efficiency and a safe commute while remaining true to the Macho image. Available across all authorized Yamaha dealers in the country, the new FZS-FI motorcycle will be manufactured by IYM (India Yamaha Motor Pvt. Ltd.) and marketed by YMIS (Yamaha Motor India Sales Pvt. Ltd).