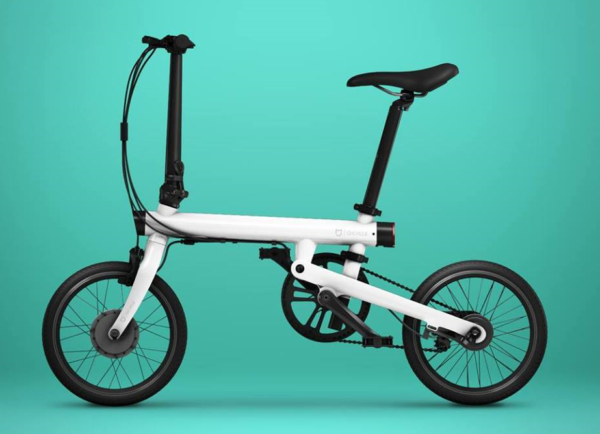 The QiCycle Electric bike from Xiaomi can be easily folded and make commuting easy
Chinese company Xiaomi's latest gadget is an electric bike – the QiCycle, which is smart and folded-able. The QiCycle is priced at Yuan 2,999, which comes to around Rs 30,699.
The QiCycle comes with a longitudinal folding design; this means that the main beam is not folded and also ensures easy storage after folding.
The electric bike is the second product from the Xiaomi-backed startup, iRiding.
The Mi Qicycle is a smart bike and comes with features like Bluetooth connection which can be synced to a smartphone via an app to check on the bike's status, ride stats and GPS navigation.
It also has its small monitor display on the handlebar which shows you the time, speed, distance, dynamic power and battery charge, as well as to let you toggle between these modes: "Fitness," Power-saving," "Balanced" and "Extra power."
The bike has a front light and a red brake light at the back. The electric cycle uses a Panasonic 18650mAh battery which can provide users cycle up to 45km of range.
The Qicycle comes with battery management system (BMS) which is an electronic system that manages a rechargeable battery and protects it from operating outside its safe operating area.
The system also does other related things such as monitoring state, calculating secondary data, reporting that data and controlling its environment.
45 kms range and Shimano Gear Shifters
The battery lasts up to 45km on a full charge (which takes 3 hours). The 250W/36V motor can push you up to 20km/h and is coupled with a Shimano gear shift, which offers three modes – easy, standard and fast.
The cycle can be paddled with the aid of Shimano Gear Shifters even after the bicycle runs out of battery.
It features TMM torque sensing technology, which keeps track of your effort and provides the appropriate assistance even on steep inclines.
The bike monitors its own readings (speed, mileage, power, etc.) but also how much calories you've burned. All of this is synced over Bluetooth with your smartphone.
So when you arrive at your destination, you can check your stats on the phone, fold the bike and pick it up – thanks to the lightweight aluminum frame, the whole bike weighs just 14.5kg.
Presently available for pre-order in China and could be launched in other countries soon.