As part of its elite Sapphire Club talent development programme in India, Volkswagen, Europe's leading car manufacturer, welcomed 25 new members at an event hosted in Chennai. This club is a distinguished society of the most promising sales talent from across Volkswagen India's 121 dealerships across 104 cities and is the highest honour within the brand, in the country. The new members were hosted at a special dinner on 20th July 2018 with Mr. Steffen Knapp, Director Volkswagen Passenger Cars, followed by an exclusive experience of the Ameo Cup at the Madras Motor Race Track in Chennai on 21st July 2018.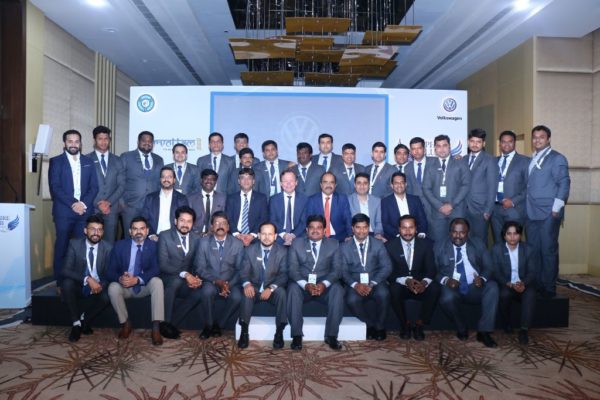 To be a member of this elite club, an applicant has to first be selected to be a Royal Blue member and then a Royal Blue Plus member – both, introductory platforms to identify and promote talent within the Volkswagen India dealership network. Once they have met the primary eligibility criteria, these select candidates go through a grueling evaluation process of their skills, knowledge and leadership capabilities. Each round tests a candidate's expertise on the product, brand, industry, sales as well as aptitude. The process concludes with face-to-face interviews with an expert panel of external seasoned automotive, business and HR professionals from across the country, to gauge their logic and skill competencies.
Speaking on the occasion, Mr. Steffen Knapp, Director, Volkswagen Passenger Cars said, "It has been Volkswagen's ambition to deliver a synergistic experience to customers across the country, through a network that not only represents the best the industry has to offer but, to also embody the core values of Brand Volkswagen. We have a defined set of priorities, of which our people take precedence and continue to be the primary focus pillar. Through programmes like the Sapphire Club, we aim to motivate, retain as well as develop the exceptional talent we have in the country and in our network." 
This club recognizes high-potential talent and provides a platform to groom individuals for prominent leadership positions within Volkswagen India. The journey to acquiring a spot in the Sapphire Club takes up to three years and ensures that talent is cultivated and empowered within the brand.