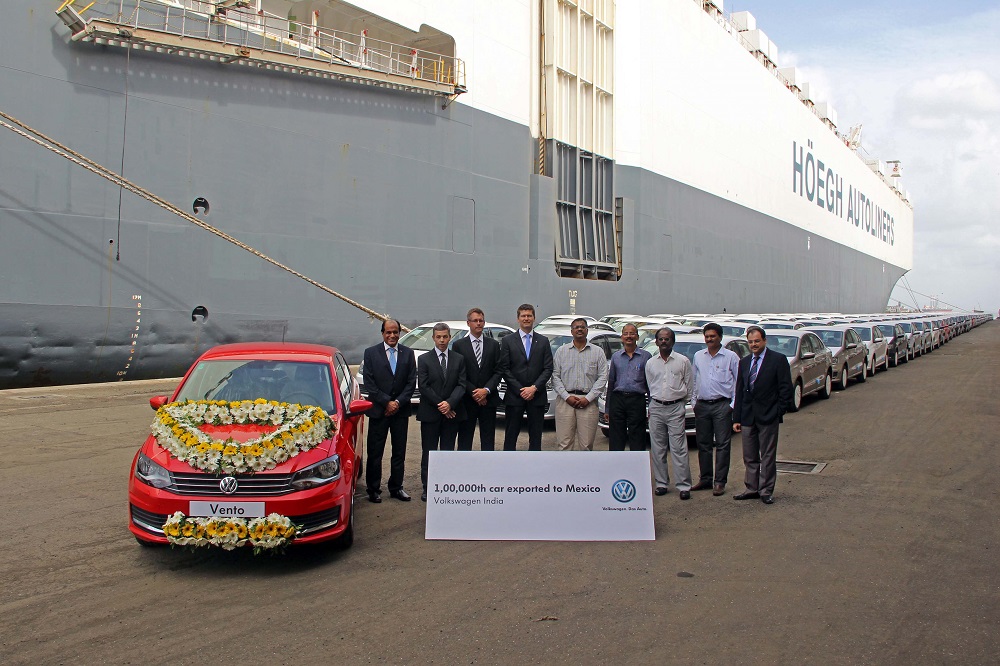 German Luxury car maker, Volkswagen shipped its 1,00,000th car built for Mexico. Volkswagen may have not managed to sell very high numbers but India operations have helped the company higher capacity utilisation.
The state-of-the-art production facility of Volkswagen India in Chakan, Pune has achieved this milestone in less than two years after starting export to the North American country. This success highlights the high acceptance and demand of the Indian Volkswagen Vento and Polo in Mexico.
 The 1,00,000th export car to Mexico is a red Volkswagen Vento, powered with a 1.6-litre MPI engine from the Mumbai port.
The event was flagged off by Mr. Carsten Goransch Executive Director – Logistics, Volkswagen India Private Limited; Mr. Carsten Steinicke, Logistics, Volkswagen India Private Limited; Mr. Tore Listad, Head of Region South Asia and Africa, Höegh Autoliners AS; Mr. Karolath Gopinath, Head of Area Indian Sub-Continent, Höegh Autoliners AS; Mr. Yashodhan Wanage, Deputy Chairman, Mumbai Port Trust and Mr. Suvir Mishra, Commissioner of Customs (Export), Mumbai.
Mexico is one of the largest markets for India in terms of exports and the Vento has been one of the bestselling model in this country for Volkswagen.
VW India started the exporting the Vento in 2013 and the striong demand has helped the company to achieve these feet in a very short timeline. The Vento, built at the Pune Plant, replaced the outgoing Jetta Classico in the Mexican market. After being introduced in the late-2013, the 'Made in India Vento' immediately became a popular car in this North American market.
The Vento in Mexico is one of the top 3 best-selling cars in Mexico and also the highest selling Volkswagen car. Nearly every second car produced in the year 2014 at the Volkswagen Pune Plant was shipped to this single largest export market for Volkswagen India.
Volkswagen India exports the VW Polo and Vento in right-hand as well as left-hand drive versions to over 32 countries in Asia, Africa and North America. Starting with the first single export market, South Africa in 2011. VW India rolled out the 5,00,000th car built in India in May 2015.
Volkswagen Pune Plant Chronicles
March 2009: Volkswagen Pune Plant inaugurated
December 2009: Start of Polo production
August 2010: Start of Vento production
December 2010: Start of production for export to South Africa
July 2011: 1,00,000th car rolled out of Pune Plant
July 2012: Start of production of left-hand drive cars
October 2013: Start of export to Mexico
April 2014: 50,000th export car rolled out of Volkswagen Pune Plant
December 2014: With 1,11,444 units, the highest number of cars produced at Volkswagen Pune Plant within one year
19 May 2015: 5,00,000th car rolled out of Pune Plant
20 August 2015: 1,00,000th car exported to Mexico from Pune Plant