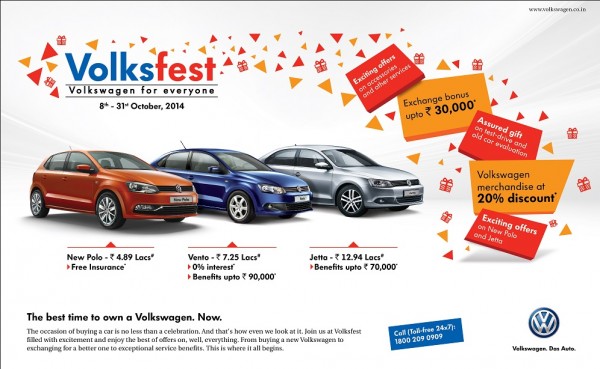 Volksfest 2014 to be held across India from 8th October to 31st October
All existing and prospective customers are welcome to participate in Volksfest 2014
Volkswagen, Europe's leading car manufacturer today announced 'Volksfest 2014,' a 24-day mega-carnival where the company's existing and prospective customers can avail of a range of valuable offers, exciting benefits and assured gifts. In addition, prospective customers will also be able to test drive Volkswagen cars of their choice at Volkswagen dealerships across the country.
During Volksfest 2014, which coincides with the upcoming festive season in India, customers can avail best deals on car finance and other valuable offers on new car purchase. Attractive offers in after sales services include road side assistance, benefits on selected Volkswagen genuine accessories and merchandise, body and paint services.
Volksfest 2014 will also provide an opportunity for prospective customers to avail free insurance on purchase of New Polo and benefits of upto Rs.1,00,000 on the purchase of Vento and Jetta cars, when they upgrade to a Volkswagen. This offer can be availed through Das WeltAuto, Volkswagen brand's pre-owned car division.
Mr. Michael Mayer, Brand Director, Volkswagen Passenger Cars, Volkswagen Group Sales India Private Limited, said, "With the Volksfest, we aim to offer something extra to our customers and hope to bring some added joy to their lives during this festive season. I wish all our customers the continued joy of motoring and look forward to welcoming many more into the Volkswagen family during Volksfest 2014."
Volksfest 2014 commences from 8th October 2014 and will conclude on 31st October 2014.