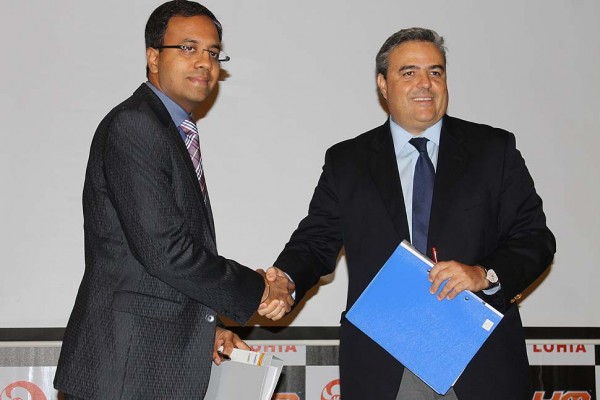 UM Motorycles India, the US-based motorcycle brand has signed a strategic joint venture with Lohia Auto, an automotive division of the Lohia conglomerate on Friday.
The definitive agreement was signed between Mr Juan Villegas, Global Director-Business Development, UM Group of Companies and Mr Ayush Lohia, Director, Lohia Auto industries. This agreement envisages the creation of a joint venture company with a 50-50 partnership between the two companies. The joint venture company will market a full new range of motorcycles designed especially for the Indian markets. The manufacturing facility will be located in Kashipur, Uttrakhand  utilizing Lohia Auto current facility with a capacity to produce 1,00,000 units per year. The expected start of production will be around the second quarter of 2015. 
The overall investment in the joint venture company over a definitive period will be approximately 120 crores. UM International, through this Joint Venture, aims to foray into the burgeoning motorcycle market in India by offering consumers a new, fresh alternative, initially in the Cruiser category and subsequently in other segments where UM can offer the three pillars it stands for: design, innovation and quality, all at affordable pricing.

In addition, UM International will make its India operation an important export hub for its products to its global distribution network.

UML's Mission is to offer innovative, affordable, aspirational, safe and comfortable motorcycles that become a key element in the life of it's customers, ultimately improving their quality of life. UML is confident about setting a firm foothold in the Indian market with the "Made in India" branding.

Mr. Ayush Lohia, Director, Lohia Auto  been very Assertive on this venture. "The Products of UM blend with our strength of manufacturing will definitely enthrall to Indian bike lovers. We are committed to produce the world class quality Bikes at our Kashipur plant. We are also committed to delight Indian consumers with our sales, after sales services and products" commented Mr. Ayush Lohia. 
Mr. Juan Villegas, Director UM International is very confident and satisfied with the new venture in India, "UM International is here to make difference in Indian Motorcycle Arena and not just one more player. We are looking at India with long term perspective, with a vision to not to only cater to domestic need but to also export to different part of the world. We will continuously keep improving our products to be ahead of the league in terms of performance and affordability. We will launch bikes in all segments including sports and touring as we move forward."
Mr. Rajeev Mishra, Director, UM India, comments, "We wish to draw an equally valuable experience for both the parties as this Joint Venture is extremely significant for UM International's expansion in the India. We are extremely positive that the Indian consumer will equally appreciate the tailor made product we bring along with the manufacturing experience of Lohia Auto. We promise to constantly surprise the Indian consumer with our innovative, affordable motorcycles clubbed with our comfort driven approach, till UM Motorcycles becomes a household name."