Japanese car maker Toyota showcased new and hybrid vehicles at the Auto Expo. The main show stoppers for the event were the new Innova Crysta and the all New 4th Gen Prius.
Toyota had divided the stall into hybrid, current selling models and future models. The entire range of vehicles which are currently sold in India were on display which includes the Etios Liva, Etios Cross, Etios Sedan, Corolla Altis, new Land Cruiser 200, Land Cruiser Prado and Fortuner TRD.
The Hybrid portfolio consisted of the Camry Hybrid, TSO40 racing car and Mirai, which means 'future' in Japanese. We just loved the Mirai and hope to see this car on the Indian roads someday. The Mirai is powered by a fuel cell which generates electricity from a chemical reaction between atmospheric Hydrogen and Oxygen. When operating, the vehicle emits only water and there are no emissions of CO2 or substances of environmental concern.
Toyota unveiled the Prius Hybrid which is powered by the most advanced and eco-friendly Hybrid Synergy Drive. The 4th generation Prius has been unveiled for the Indian market and the commercial launch should happen very soon.
Prius is the first vehicle to be built on Toyota New Generation Architecture (TNGA). The Prius in India will be utilized to showcase the advanced technology and the Prius DNA which the company intends to carry forward in future.
The new Prius will complement the Camry Hybrid which has seen great success in the Indian market.
Toyota has sold approximately 3.5 million Prius across the globe. However, the aim of Prius in India is to create Hybrid awareness across stakeholders including customers, the govt., regulation authorities on the benefit of Hybrid Technology.
Toyota also unveiled TOYOTA CONNECT Telematics Services for India at the Auto Expo. Key features of Toyota Connect are
Fully integrated cloud based telematics service platform linked to Global Toyota Smart Center
Brand new dedicated Premium Telematics Operator service similar to countries like Japan and USA
Services to deliver Convenience, Peace of Mind & Delightful Ownership experience
India is the 11th country globally to get this service which has a host of services like 24X7 Assisted Navigation and Live Traffic information, 24X7 GPS Location based Road Side Assistance, Online Maintenance appointment booking, live check of service progress, e-Payment.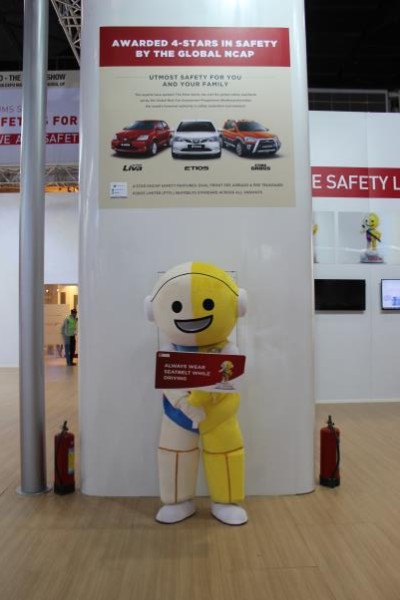 On the safety front Toyota which makes cars that are safe for everyone had the THUMS – Total HUman Model for Safety mascot. An innovative crash test dummy that has organs, bones and muscles in his body, just like us.
Toyota cars now come with front Dual SRS Airbags, front Seat Belts with Pre Tensioners & Force Limiters and Impact Absorbing Body Structure, standard across all vehicles.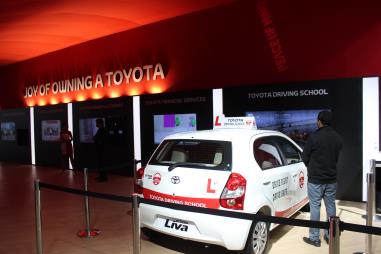 With road accidents on a rise, Toyota also had a driving simulators and a Toyota Driving School car on display. Toyota is committed to create safe and responsible drivers through the Toyota Driving School initiative.
Click here to read more on Toyota @ Auto Expo 2016