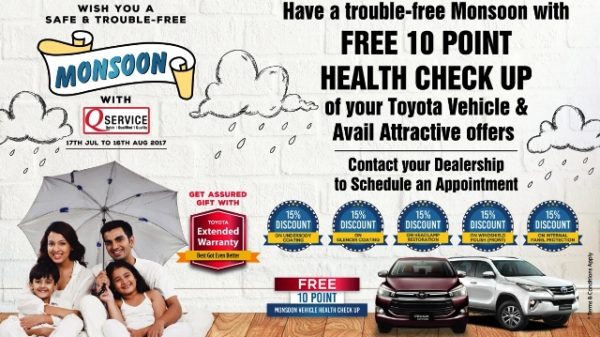 In its continued effort to provide the best in customer satisfaction, Toyota Kirloskar Motor has announced a Monsoon Car Care Campaign for its esteemed customers in Eastern India. The month long camp will start from 17th July 2017 and continue till 16th August 2017. 
The Monsoon Car Care Campaign is one of the various customer service initiatives which focuses on providing value-added services and enhancing customer experience by ensuring safety, comfort and hassle- free drives during the monsoon season. 
The Company will be offering a host of services and benefits to its customers such as:
Free Monsoon Vehicle Health Checkup*

Assured gift on purchase of  Extended Warranty*

15% Discount on Car Care treatments*
Speaking on the launch of the Monsoon Campaign, Mr. B. Padmanabha, Vice President (Customer Service Group) – Toyota Kirloskar Motor, said 
"We are committed to the highest quality of customer service at every single touch point. The Monsoon Car Care Campaign with an exciting array of offers is yet another effort by us to ensure that every customer gets the best ownership experience and after-sales support with maximum benefits throughout the vehicle life-cycle.
Safety is of utmost priority to us and we always ensure to guarantee complete support towards vehicle maintenance for a safe and trouble-free monsoon drive. Through this special services campaign, we look forward to providing the best-in-town experience to our customers at all times.  We wish to express our gratitude to our customers for their great trust & most admiration for our world-class products & services." 
Toyota is known to deliver the best products and services through continuous improvements thus exceeding customer expectations on all fronts. This month long campaign will ensure seasonal preparedness of Toyota vehicles, thereby ensuring safe drives for its customers.
For more details on the Monsoon Car Care Campaign, kindly get in touch with your nearest Toyota dealership.
Also read – 10 Tips For Driving Safely This Monsoon
*Conditions Apply.