Toyota Kirloskar Motor today announced the launch of 'Service Express', which focuses to provide convenience of car maintenance to customers at their closest access. 
With the introduction of this initiative, Toyota Kirloskar Motor will be providing All Periodic Maintenance Services [Minor, Medium & Major], Express Maintenance in just an hour, Wheel Balancing, Wheel Alignment and even Eco-Car Wash. Further, Toyota also intends to provide car beautification services & minor body-paint jobs under this easy access servicing experience.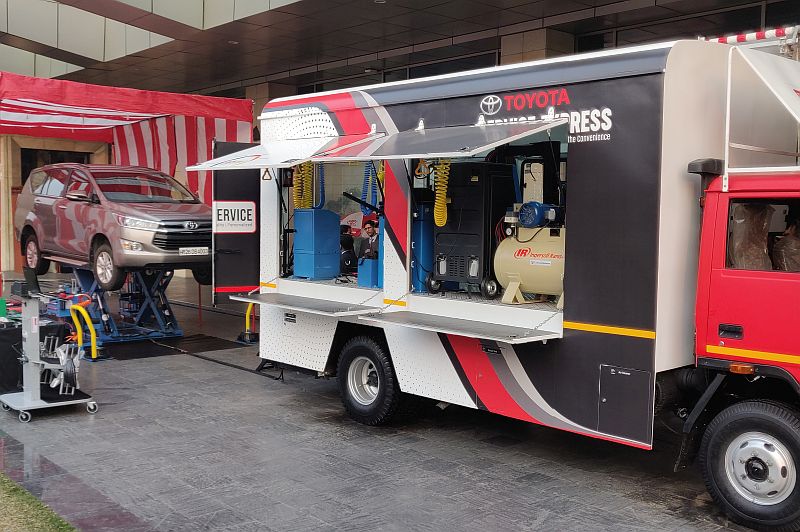 Currently Toyota covers remote areas of Rajasthan and has been receiving positive feed-back from customers on this doorstep service experience. The customers have been appreciative of Toyota's concerted efforts and initiatives undertaken giving ease-of-access to car servicing. Now customers can avail this service in their own towns, while avoid travelling long distances for periodic vehicle maintenance.
Commenting on this new service offering, Mr. N. Raja, Deputy Managing Director – Toyota Kirloskar Motor, said,"Convenience plays a very important role towards providing delightful services and ensuring peace of mind to customers. At Toyota, we always listen to our customers' voice and strive to make our service offerings ever-better, providing ease access to Toyota's car care. Our aim is to limit the constraints of fixed location set-up of car servicing with 'Quick Service' offers at customers' doorsteps, bringing the best-in-class service experience even closer with these 'On-wheels' touch-points.
Through this service, we express gratitude to our loyal customers towards the trust and admiration they have shown through the years towards our products and services.
Being a safety leader, it is our conscious effort to raise awareness on importance of regular maintenance of the cars to ensure safe driving experience. Through our world-class products and services, we continue to look forward to forging ever stronger bonds with our customers and partners." he added.
In-line with its "Customer First" approach, Toyota conducts periodic service campaigns, promoting the importance of regular vehicle maintenance to ensure safe, comfortable and trouble-free drives, bringing an ever-new experience of owning Brand Toyota for its customers.