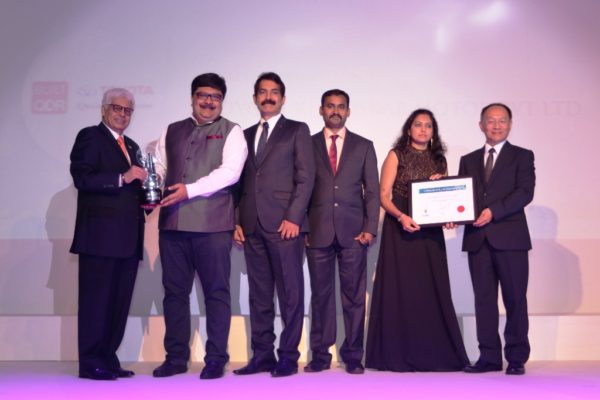 Toyota Kirloskar Motor (TKM) has been participating actively in the Swachh Bharat Abhiyan initiated by Shri Narendra Modi. TKM's Project ABCD (A Behavioral Change Demonstration) was rolled out in 2015 with an aim to provide sanitation facilities for girl children in schools and to drive a positive behavioural change among the students and the community on healthy and hygienic sanitation practices. The initiative is designed and implemented with the aim to curb one of the grave concerns faced by our country – Open Defecation (OD) by creating awareness on good sanitation practices among children, teachers, and community.
Recognising its efforts towards the cause of health and hygiene, TKM was recently awarded the prestigious Asia Responsible Entrepreneurship Award (AREA) 2017. The award was received by Toyota's CSR team at a ceremony held at Thailand.
It is worthy to note that Toyota has built nearly 762 sanitation units for the girl child and over 42,000 school children have been benefitted. 1340 in 2016-17 and 2553 in 2017-18 individual household units are constructed as a result of which 74 villages have been declared 100% open defecation free. Through this program, Toyota has been able to educate over 130,000 community members on hygienic sanitation practices.
Expressing his delight on receiving the award Naveen Soni, Vice President – Toyota Kirloskar Motor said "We are delighted to have received this award recognizing our initiative which has contributed effectively where 74 villages have been declared 100% ODF (Open Defecation Free) in the state of Karnataka. As a responsible corporate citizen, Toyota is committed to contribute to the wellbeing of the society we operate in and we see this award as an acknowledgement for our efforts to bring in positive and sustainable differences in the lives of the people. UNICEF (The United Nations Children's Emergency Fund) has also benchmarked this unique ABCD project of Toyota which has positively impacted the overall success of the sanitation program in a big way.
Our primary objective was not only to build the sanitation infrastructure, but also to inculcate the right attitude, raising awareness motivating community members to discontinue age old practices. The crux of all our CSR pprogrammes focus on generating measurable outcome, long term sustainability and benefits to local community creating a substantial impact on social change drive. Therefore, Project ABCD, was a result of this attitude as it was bringing a more holistic solution of sanitation issues.  Since the program's launch we have been successful in bringing about a tremendous attitudinal change and develop a sense of ownership among the community members leading to a successful and sustained social impact."
TKM has been actively contributing towards the Swachh Bharat Abhiyan by constructing sanitation facilities in government schools located in Varanasi (UP), Ramanagara (Karnataka) and Vaishali (Bihar). It has also constantly worked towards harmonious, scalable and sustainable development of society emphasizing on Education, Health & Hygiene, Road Safety, Environment and Skill Development through various CSR initiatives.