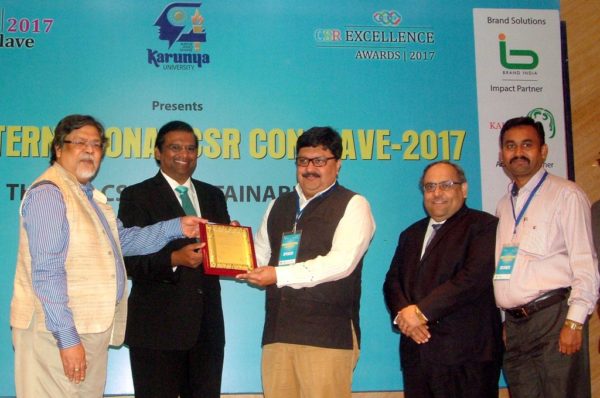 (Dr. Chandan Mitra, Former MP (Rajya Sabha) and Chairman, MD & Editor – The Pioneer Group presenting the CSR Excellence Award 2017 to Mr. Naveen Soni, Vice President, TKM.)
Toyota Kirloskar Motor (TKM) was recently awarded the prestigious "CSR Excellence Awards 2017" under the category "CSR Practice of the Year" at the India International CSR Conclave organised by Karunya University & Media bytes. The award recognises the company's noteworthy contribution in the area of health & hygiene by providing sanitation facilities and promoting the best hygiene practices through the unique initiative of ABCD – A Behavioural Change Demonstration – a comprehensive project conceptualised and implemented by the company with the aim to curb one of the grave concerns faced by our country – Open Defecation (OD).
Under this project, TKM's unique approach is "Child to Community", where children demonstrate the act of change agent to bring the desirable transformation in the community for a healthier living. "Rating System" has been introduced to motivate the children efforts towards this societal betterment project.
Dr. Chandan Mitra, Former Member of Parliament (Rajya Sabha) and Chairman, MD & Editor – The Pioneer Group presented the award to TKM represented by Mr. Naveen Soni, Vice President at an award ceremony held in New Delhi. The CSR conclave witnessed participation from leading CSR practitioners from all walks of life and had insightful panel discussions on key CSR themes like The Ethical & Economic Aspects of CSR, CSR Approach in a Developing Country and Developing Sustainable and Responsible Business through CSR.
On this occasion, the organizer – Mr. Jasbinder Singh, Director – MediaBytes, said "The CSR Excellence Award 2017 is a prestigious recognition for Corporate Social Responsibility. Toyota Kirloskar Motor was conferred the award under 'CSR Practice of the Year' category, to honour its innovative CSR project – ABCD. This project follows a unique approach which demonstrates instilling habitual change among the individuals in the society, thus effectively contributing to the success of the sanitation projects in its true sense".
Expressing his delight on receiving the award Mr. Naveen Soni, Vice President – Toyota Kirloskar Motor said "It is an honour to receive this prestigious award which recognizes TKM's immense efforts to bring a larger sustainable difference in the lives of the people. At Toyota, we have embodied the core principles of CSR – as a part of our business operations and we are strongly committed towards the holistic societal development through manufacturing.
Open Defecation is one of the severe social challenges of the country. Every year over 200,000 children in India die from diseases caused by fecal contamination; key reasons being the lack of access to proper sanitation facilities and low awareness on health hazards including hygiene sanitation practices. At Toyota, we believe that providing physical toilet infrastructure is just not the solution, but proper maintenance of the facility, changing the mindset in overruling the age old practices and bringing the behavioral change in the community to follow good hygiene practices going hand in hand will see the real success of the sanitation project. Therefore, project ABCD (A Behavioral Change Demonstration), was launched which addresses such gaps & improve the sanitation practices of the people, thus contributing to the healthier community in true sense. Through this approach, TKM has been successful in developing a sense of ownership & responsibility amongst the community members leading to a social movement in a sustained manner. Under ABCD project, Toyota is aiming to support 100% household sanitation in Ramanagara district to achieve ODF" he added.
Project ABCD is strongly driven with a mission to achieve 100% sanitation in Government schools by instilling good hygiene habits amongst the individuals & providing infrastructure support through building of new sanitation units including renovation of existing sanitation to make all functional sanitation facilities operational by end of 2018 in Ramanagara district (situated near Toyota plant) in Karnataka.
With the implementation of the ABCD project since 2015, we have touched the lives of people through a sustainable difference at large:
·        Nearly 762 sanitation units for girl child have been constructed till date and 42,059 school children have been benefitted through such sanitation infra support
·        Nearly 1366 nos. in 2015-16 & 2755 nos. in 2016-17 individual household units were constructed and 74 villages were declared 100% sanitation
·        Awareness has reached out to 132,598 members creating a healthier local community
As a socially committed corporate, Toyota has actively contributed towards the "Swacch Bharat Abhiyan". The company has constructed more than 650 units of sanitation facilities in 206 government schools across India, of which 125 units are located in Varanasi, 426 units in Ramanagara district in Karnataka and 125 units in Vaishali in Bihar. 
Toyota Kirloskar Motor (TKM) is constantly working towards harmonious, scalable and sustainable development of society emphasizing on Education, Health & Hygiene, Road Safety, Environment and Skill Development through various CSR initiatives.
We believe that any initiative must start at home which is our beloved Plant Facility – planned to seamlessly adapt to the nature in and around it. Our manufacturing processes and technologies have been tuned to function with lower levels of CO2  emissions. We have set-up an in-house waste water recycling system. The paint we use in the plant is non-toxic and water-based. Over the years, through conscious efforts, we have achieved zero landfill waste. One of the Toyota's global challenges is to achieve new vehicle zero CO2 emissions by 2050. Desired efforts are being driven to achieve such big challenges in creating a sustainable future for a better societal living. We are committed to continue with our steady initiatives in order to realize sustainable development together with society.