As a part of company's vision of 'Safest Car with Safest Driver', Toyota Kirloskar Motor (TKM) today launched its first 'Toyota Driving School' in National Capital Region at Faridabad. This driving school is a part of Toyota's safety mission. The company aims to reduce the number of road accidents caused due to human error. TKM has been consistently engaged in Road Safety initiatives since the year 2005.  As part of  Toyota Safety Education Programme, the company has educated more than 6,80,000 school children  on road safety across India.
The 'Toyota Driving School' curriculum will comprehensively cover the following topics:
1.      Traffic management, rules and discipline
2.      Safe and right driving concepts
3.      Manners and responsibilities  of a driver
4.      Simulation of driving on real vehicle  before getting onto road
5.      All aspects of practical driving on road
6.      Driving on various  road and climate conditions
7.      Know your car – Basic maintenance and repairs
8.      Emergency handling
9.      Systematic evaluation and feedback
Commenting on this new Toyota Driving School launch, Mr. Chander Shekar Nagar, Dealer Principal – Thirty Six Toyota, Faridabad said "We are proud to associate with Toyota Kirloskar Motor in contributing towards improving road safety in NCR. Increasing population and rising traffic in urban areas has compromised road safety. We believe that Toyota Driving School with Toyota's world-class know-how, professional trainers and a comprehensive curriculum, will be able to inculcate a safer and cautious driving behavior amongst the people in our city."
Through such initiative, we are confident that we will be able to inculcate a safer and cautious driving behavior in Faridabad. On this occasion, we would like to extend our sincere gratitude to Dr. Hanif Qureshi, IPS – Commissioner of Police (Faridabad) & Mr. Ashutosh Rajan, Secretary , Regional Transport Authority (RTA), Faridabad for being part of this launch and extending his kind support towards this initiative". He further added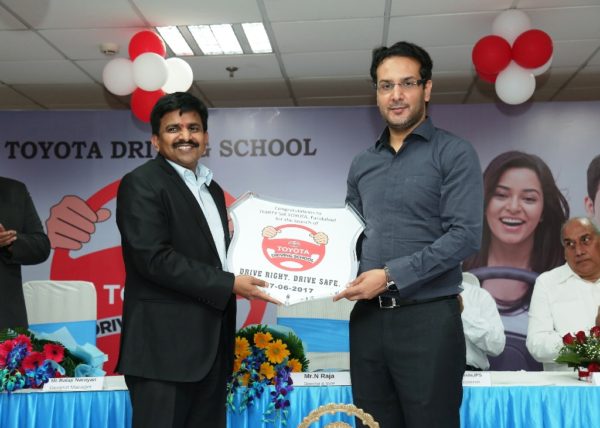 Speaking at the occasion Mr. N Raja, Director and Senior Vice President (Marketing and Sales) – Toyota Kirloskar Motor said "We are delighted to launch our first driving school in the NCR region at Faridabad reiterating our commitment towards road safety.  The NCRB (National Crime Records Bureau) report has revealed that on an average, 17 people are killed in road accidents each and every hour and primary reason of road accidents are poor road safety practices.  As safety leaders in the industry, it is our primary mission to ensure safest cars with safest drivers in the country and significantly reduce the traffic accidents with our safety initiatives. It is not "just another driving school" for getting a driving license, but it's much more of a place that follows a comprehensive approach ensuring that every single student becomes a responsible driver on road and a safety ambassador in creating a safe road for everyone to use.
We would like to thank our dealer partner – Thirty six Toyota, who has partnered with us in setting up this state-of-the art driving school infrastructure in Faridabad.  We are confident that our Toyota Driving School will set a new standard for quality driving and traffic safety. I would also like to take this opportunity to invite each one of you to join us in raising awareness on road safety and educating your friends and family to help increase safe behavior."
The simulator, a key part of the teaching program, is expected to provide hands on experience. Learners can practice all car controls like steering, accelerator, brake and gear shift before they take the actual vehicle on the road. The simulators can also create various road and weather conditions like fog, dim light, uphill and downhill terrain. While there will be a standard learning package for beginners, 'Toyota Driving School' will also offer the flexibility of additional learning modules so that learners can design a curriculum of their choice.
Besides, the simulator also has several credits, it is the first car simulator in India with Full High Definition Computer graphics in an immersive Curved Projection environment, and it is the first simulator in India with real complete car cabin along with actual car gear. In addition, it also offers extensive local language support for effective training and extensive sessions for both novice and advance drivers.
Toyota Kirloskar Motor plans to launch 50 Toyota Driving Schools across India by the year 2020.