Toyota Kirloskar Motor (TKM) inaugurated the Toyota Centre of Excellence at Global Academy of Technology located in Bengaluru. To aid far reaching knowledge-base of engine composition at the grass-root level, Toyota handed over one cut section of the vehicle engine and an assembled engine. The key focus is to enable comprehensive learning opportunities for the students, offering them a first-hand experience of the vehicle engine.
This initiative is basically incorporated to pursue Toyota's main objectives to promote, setup, monitor, govern and regulate institutions and academies for skills excellence for development of core employability skills, competency standards and for promoting technology that meets the demands of various industries globally.
Commenting on this initiative, Dr. N. Ranapratap Reddy, Principal – Global Academy of Technology [GAT] said, "Toyota has always stood for Quality and Excellence through the years, pioneering in manufacturing cars with global standards. We are delighted to partner with Toyota through for this great initiative in imparting quality education amongst engineering students. Through this program, we are confident that the students would gain a better insight of the high-level skill techniques associated with the engine, which is an essential part of a vehicle, while enriching their learning experience at our Academy of Technology."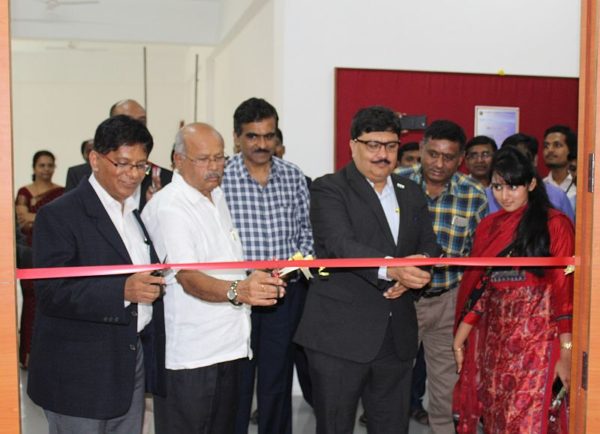 Speaking on the occasion, Mr. Naveen Soni – Vice President – Toyota Kirloskar Motor, said "Through our established Centre of Excellence in association with various colleges and institutes across the country, we are striving to aid comprehensive learning among the students at the base classroom levels in our mission to provide India an highly skilled workforce to match with evolving skill demands of the automotive industry. As a responsible corporate citizen, we at Toyota design to aid the students to be industry ready with desired skill sets while contributing to the nations' growth and Industry's employability scenario.
We believe such practical exposure would enable the students to cope with different levels of operations associated with functional mechanisms."
The company has been tirelessly working towards enhancing the employability quotient in the automobile manufacturing industry across India, by promoting unique skill sets.
As a part of its commitment towards developing world class skilled workforce for the emerging Indian Auto Industry, Toyota in 2007 established the Toyota Technical Training Institute (TTTI) which offers a three-year rigorous full-time training in – Automobile Assembly, Automobile Paint, Automobile Weld and Mechatronics (a combination of mechanical and industrial electronics) to financially challenged students hailing from Below Poverty Line (BPL) families from across Karnataka. This institute exclusively emphasizes on over all development of the trainees as per industry requirements & towards "Perfecting people" and there by contributing young multi skilled, energetic, ideal students to the nation. Training Curriculum is a unique blend which focuses on the holistic development of Knowledge (16%), Skill (34%), Body and Mind (50%) of the students. Last year Toyota's TTTI institute accomplished a key milestone of being selected for "Manufacturing Skill Transfer Promotion Programme" under the MoU signed by Ministry of Economy, Trade and Industry, Government of Japan (METI) and Ministry of Skill Development and Entrepreneurship Government of India (MSDE).
Some of the key highlights of TKM's other skill initiatives follows:
·         Toyota Technical Training Institute (TTTI) offers a three-year rigorous full-time training in – Automobile Assembly, Automobile Paint, Automobile Weld and Mechatronics (a combination of mechanical and industrial electronics) TTTI has also been selected as a part of this partnership between Japan and India for the "Manufacturing Skill Transfer Promotion Programme.''
·         Gurukul is a well-equipped learning center at TKM imparts diverse training to employees at all levels which helps them to improve their abilities and thoroughly fulfill their roles. Everyone who works in Toyota experiences 70% of their development through the job itself; and the experience serves as a driving force in developing the next generation.
·         Toyota Technical Education Program (T-TEP) provides technical know-how training to ITI students across India along with providing hands-on real-time experience within Toyota dealerships.
·     Toyota Tantrajna is a unique skill development project initiated in association with the Automotive Skills Development Council (ASDC).  A comprehensive year and a month plus [Program duration – 13.5 months] training module consists of an induction and fundamental skill training, On the Job development and class room training and trade knowledge training [including Language – English speaking skills, Computer soft skills, Interview etiquettes, etc.,].  After completion of course evaluation and certification by ASDC, TKM synergizes to connect the trainees with prospective employers through "Job Fair". Toyota provides an attractive stipend, free commutation and canteen facility for the trainees during the training period.
·        Toyota Apprentice Scheme (TAS) – Under TAS, TKM has trained over 12,000 Apprentice Members (ITI, Diploma and Engineer) since 2002, which makes it one of the largest sources of providing such manpower to the industry.
·        National Skill Contest – Launched in 2014, National Sales & Service Skill Contest is an initiative that provides Toyota's dealer sales & service personnel to showcase their skill levels with a view to identify gaps and improvise. Held at three levels – across dealership, regional and national levels, the contestants are evaluated on various parameters such as knowledge, process demonstration, soft skills and role plays among others. Continuous training skills are imparted to hone the dealer personnel skill sets to meet the growing expectations and deliver Toyota's best-of-all Quality, Durability & Reliability for ultimate customer delight.