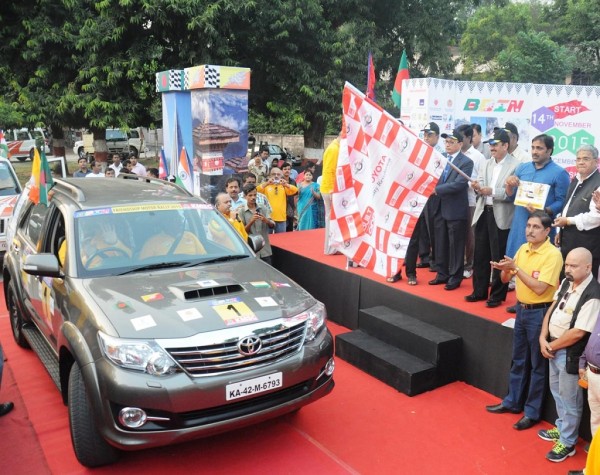 The Bangladesh Bhutan India Nepal (BBIN) Motor Vehicles Agreement, signed on June 15, 2015, allows vehicles to enter each other's territory and does away with trans-shipment of goods from one country's truck to another at the border, a time consuming and costly process. The agreement encapsulates the spirit of economic integration emphasised in the SAARC Charter and has been endorsed by the cabinets of the four countries.
Signing of the BBIN agreement will promote safe, economical efficient and environmentally sound road transport in the sub-region and will further help each country in creating an institutional mechanism for regional integration.
BBIN countries will be benefited by mutual cross border movement of passengers and goods for overall economic development of the region. The people of the four countries will benefit through seamless movement of goods and passenger across borders.
The Bangladesh-Bhutan-India-Nepal (BBIN) Friendship Motor Rally 2015 kicked off on 14th November from Bhubaneswar and will culminate at Kolkata on 2nd December 2015. It will also champion the cause of educating the people about the importance of road safety and safe driving through a seminar to be conducted by Toyota Kirloskar Motors in Guwahati on November 25th 2015.
This Bangladesh, Bhutan, India and Nepal (BBIN) Friendship Motor Rally was flagged off from Bhubaneswar and will cover around 4500 kms across 4 countries. It was flagged off by important dignitaries including Honorable Justice Sir D. H. Waghela, Chief Justice, Orissa High Court, Vijay Chhibber, Secretary, Ministry of Road Transport & Highways Govt. of India, Mr. Shekar Viswanathan, Vice Chairman and Whole – time Director, Toyota Kirloskar Motor and Ambassadors/High Commissioners of the 4 participating countries.
Speaking at the event, Mr. Shekar Viswanathan, Vice Chairman and Whole Time Director, Toyota Kirloskar Motor, said, "We, at Toyota Kirloskar Motor, are privileged to be part of this rally that aims at enhancing people-to-people interactions from the four participating countries. This rally will open transport corridors that can turn into economic corridors which we believe, will drive change in a positive direction. Supporting this initiative is special for us as it also disseminates the awareness on the importance of road safety, which is of paramount importance to us being the safety crusaders in the industry."
Also commenting on the event Mr. Vijay Chhibber – Secretary, MoRTH, said "BBIN friendship rally will further strengthen friendship, mutual-trust and cooperation between participating countries. Growing access will also help in establishing a stronger people to people bond. We hope to build more such cultural engagements in the future. We are happy to receive the participation from TKM and their support in promoting importance of RoadSafety".
At the last moment the organisers decided to skip Nepal to avoid any untoward incident due to the ongoing tension in the Himalayan country. The rally would have helped in clearing the misunderstanding between the people of Nepal about India as the main objective of the rally is strengthen the bonding between participating countries,
Toyoa will be an active participant in the event in line with the company's pursuance of a comprehensive approach towards achieving road safety. TKM being safety leaders in the industry have always displayed enthusiasm promoting safe driving habits among citizens, and it provided Fortuners and Innovas for the 2015 BBIN Friendship Rally.