As a part of its CSR initiative, Toyota Kirloskar Motor (TKM) today conducted its fifth activity under 'ICARE', an employee voluntary initiative to build basic road safety requirements in prime road junctions of Bangalore city. More than 100 TKM employees jointly participated towards improving road safety infrastructure to ensure the safety of the road users.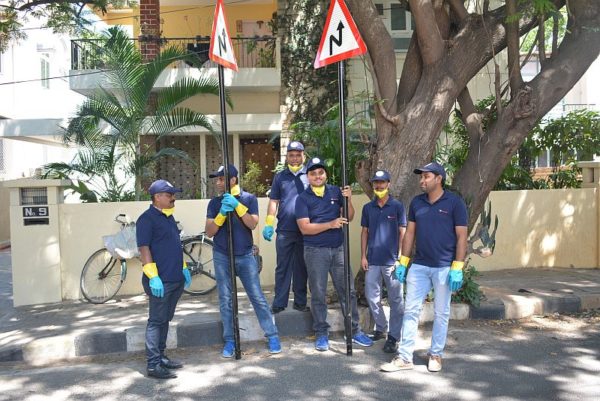 Toyota identified the road safety structures to be installed at prime locations in order to minimize safety related mishaps. This would involve installation of road safety – Sign Boards, Solar Blinkers, Cat Eyes Reflectors, Convex Mirrorsat turns in the Primrose Road, Brunton Road and Magrath road of Bengaluru. 
Speaking on this initiative, Mr. Naveen Soni, Vice President – Toyota Kirloskar Motor said, "At Toyota, we believe in integrated strength to give back to the society we live in. Our objective is not only manufacturing ever better cars, but alsoenrich community lives.
Safety has been the DNA of Toyota and of prime importance. And hence, we started the awareness program on road safety to school children from 2007 onwards. We were the first corporate to set the road safety infrastructure at schools with the philosophy of "Seeing is Believing" to bring about a positive behavior change amongst children towards developing responsible future road users.
'ICARE' is driven solely by the passion of our employees and shared responsibilityto make a big difference in the society we live in. These kinds of activities empower our employees to be the change makers in the community and support them grow as individuals with real understanding of the social issues around them. Our employees have been actively involved to drive many CSR interventions in the areas of health, environment and education. This initiative further focuses on road safety being one of the key national issues. It is heartening to see our employees as social enthusiast, joining in large numbers to support this road safety initiative and needless to mention with "Safety" culture that is so deep rooted in each one of our employees being part of their work culture.
As a company, we are committed to the cause of Safety. We hope to see this transcend beyond vehicles into everyday lives of everyone while using safer roads." he added.
Commenting on the employee engagement initiatives by TKM, Mr. Vikram Kirloskar, Vice Chairman, Toyota Kirloskar Motor, said, "I would like to thank HonorablePrime Minister, Shri Narendra Modi for launching a digital platform "Self 4 Society", and encouraging corporates to organize employee engagement initiatives for social causes. At Toyota, we are always committed to give back to the community in our own way and try to uplift the lives of the underprivileged. We are happy to align Toyota's employee engagement programs with "Self 4 Society", thus strengthening the impact of the causes we stand for. We would like to dedicate this program to the "Self 4 Society" initiative by the Prime Minister".
Toyota follows an integrated safety approach towards addressing the grave issues of road safety in our country, aiming to build a safer community by adopting 3 dimensional concept – Manufacturing Safe Cars, Developing Safe Drivers & Building Safer Environment. Through varied CSR projects, Toyota has touched more than 11,00,000 lives. Toyota will further continue its various CSR interventions from a longer-term perspective and development of socio-economic stature of the society, touching many more lives to make a difference in each one's well-being.