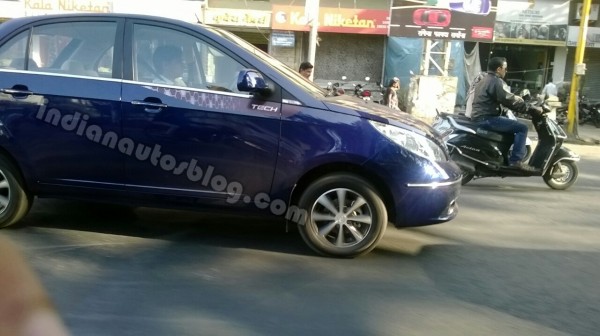 A couple of days back we reported about the Vista TECH and we now have clear images of the hatch which seems production ready doing some test rounds in Pune. Thanks to our friends at IAB who have spotted car on the streets of Pune in Chill Blue colour which is also the communication colour for the Vista TECH.
The Vista TECH will be available with a 1.3 Quadrajet engine with a FGT and will available with all the features offered on the Vista D90 which has been discontinued. The Vista will also be available in the standard LS & LX variants which will get the Centre Aligned Dashboard and not the Driver Aligned Dashboard offered on the Vista TECH.
On the outside there are no changes except for the TECH sticker on the door panels and a badge at the rear. The car largely remains the same and will be priced similar to the current Vista.
Tata Motors will concentrate more on the Falcon 4 which will be equipped with segment first features according to a few sources and most importantly an all-new 1.2 Turbo petrol engine.
The launch seems to be very near and there is a buzz of the vehicles already reaching the dealerships. Stay tuned for the prices and more details on the Vista TECH.
Image Source: IAB