I was curious to know what's extra in the recently launched Tata Nano twist. I got to find it out first hand, courtesy Tata Motors- Spent a day with the car driving it around Bangalore and here's a first hand review.
What is new in Tata Nano Twist?
Exteriors do not give much clue about the refinements done inside. Look carefully and you'll notice the twist and XT brand in the rear and probably that's the only change from the outside.
On the inside, power steering (technically, it is Electronically Assisted Power Steering and not full fledged power steering, but given its small size, one won't feel the difference- it handles as smooth as normal power steering) makes a lot of difference to the drivability of the small car. Now it is so convenient to turn it around or park the Nano twist. With just 4 meters of turning radius (Alto has 4.6 meter turning radius), I could see that Prerana motors staff had organized a zip drive inside the showroom wherein customers could drive the car inside the showroom in various zig-zag shapes to experience its maneuverability. [More details here]
Start the engine and you'll notice significant level of drop in amount of noise that seems into the cabin. New Tata Nano twist is quieter, both inside and outside. There is still some noise- don't expect a Rolls Royce out of it, but the refinement is remarkable.
The other major change is the all new clutch assembly. Based on customer feedback that clutch gets harder over the time, new Nano twist gets a much refined and long lasting clutch assembly which should reduce maintenance expenses.
Though the car dimensions are the same, new dual colour interior somehow gives an impression that car is more spacious. I guess it is a psychological effect- white colour gives a roomy feeling while dark colours make the same space seem less.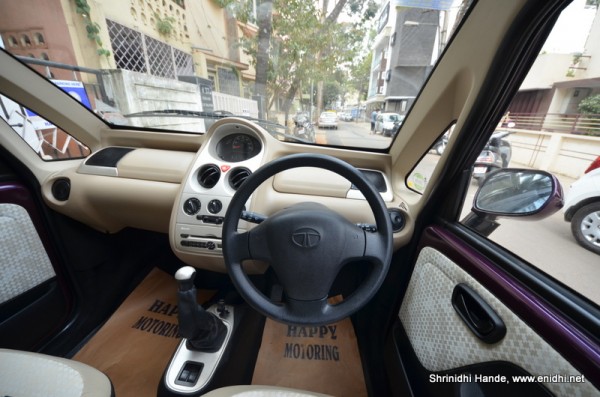 Instrument console is redesigned compared to 2009 model- now comes with a bunch of useful information display- such as distance to empty, avg speed etc.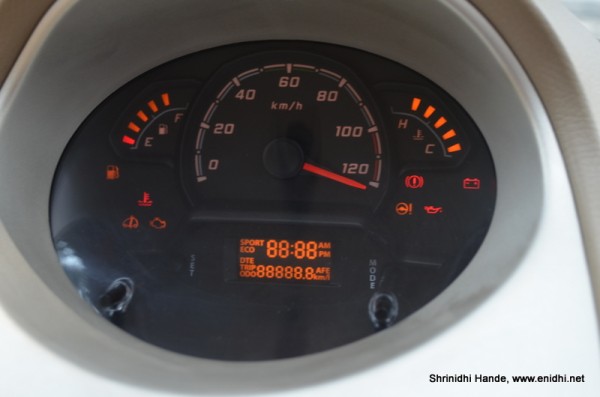 2009 model had few exposed metal parts in the last pillar, which are now covered. Even the battery that used to be under the driver's seat and fully exposed earlier is less obvious now.
In other changes, power window switches have been re-positioned and now easier to access and two small glove boxes and speakers have been provided in the dashboard area that was open earlier.
I could sense a small increase in top speed, from 110 kmph what we'd touched in 2009 to about 115kmph now. I like the fact that speedo console is very realistic and shows only up to 120 kmph. (Hyundai Eon's console shows up to 180kmph, giving false impression of the top speed while the reality is that Eon can hardly touch two third of that number.
Nano is no longer positioned as ultra low cost car. Its new positioning is Smart city car. It now offers almost all standard features of a car, without feeling being let down in any department.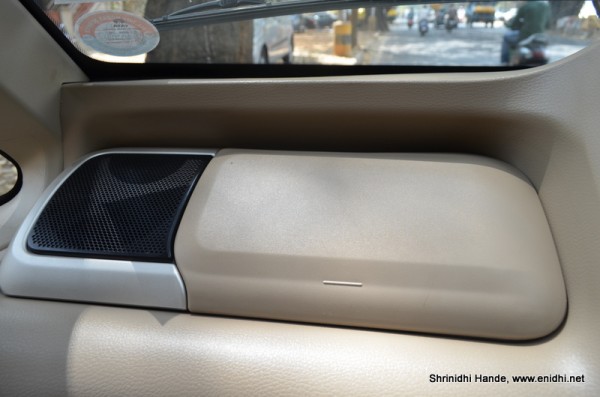 In terms of pricing, Nano twist costs 2.5 lakhs ex showroom Bengaluru and 3 lakhs on road. Older variants like CX and LX are still available while the cheapest variant, Nano Standard has been discontinued. Cheapest Nano now costs 2 lakhs ex showroom and 2.4 lakhs onroad (Non Awesome Nano CX)
Some of you may complain that 3 lakhs on road is little too much for this car. You should understand that on road price of Nano's top end variant is equivalent to ex-showroom price of its closest rival- Alto 800's cheapest variant. A comparable variant of Alto is expensive by about 1 lakh rupees. (Alto 800 VXi costs 4 lakh rupees on road). While cheapest Nano costs 2.4 lakhs on road, cheapest alto costs 3.5 lakhs. One should consider this price difference and value proposition while evaluating ultra budget cars. Nano's tall design means it is equally spacious while providing high maneuverability.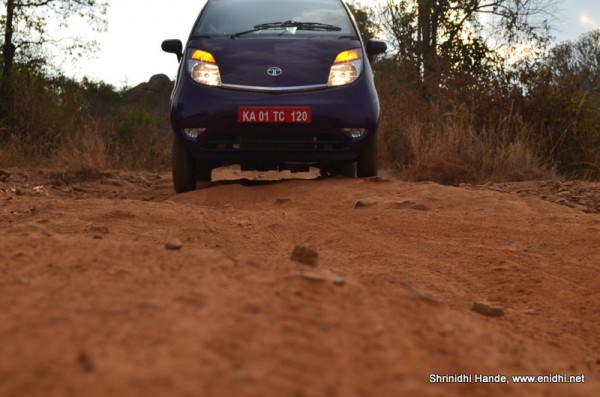 Only thing I couldn't test in the Nano was driving it on a building, the way it is shown in Tata Nano ad. Few some nice sunset photographs with Nano here. To better understand the evolution of Nano since 2009, do check this post