Indian automotive giant TATA Motors today rolled out its 15ooth GS800 (General Service 800) Safari Storme 4×4 for the Indian Armed Forces. Last year the company had bagged the prestigious contract of supplying 3192 units of Safari Storme to the Indian Armed forces. The 1500th vehicle was given a ceremonial flag off by Dr. Subhash Bhamre, MoS, Defence, Government of India along with Mr. Vernon Noronha, Vice President, Defence & Government Business, Tata Motors, at its Pune facility.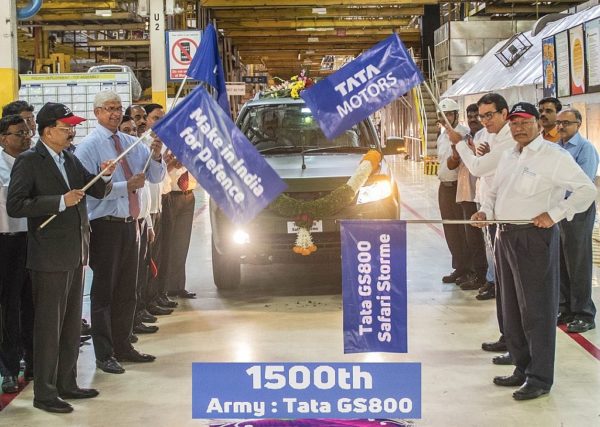 The Safari Storme GS800 can accommodate up to six crew members and is designed to endure severely rugged operational conditions ranging from high-altitude drives, traversing snow-bound regions, crossing deserts to the marshy lands. It comes with a payload capacity of 800 kgs and packed with features like ABS, recovery hooks, jerry can holder, air-conditioning, mobile charging points and special fog lamps to suit army requirement during missions.
Commenting on the successful roll-out of the 1500th Tata GS800 Safari Storme, Mr. Vernon Noronha, Vice President, Defence & Government Business, Tata Motors Limited said, "We, at Tata Motors, take immense pride to roll-out the 1500th GS800 Safari Storme of the 3192 order for the Indian Army. This modern SUV – Tata GS800 is specially customized to meet the requirements of the Indian Armed Forces. The continued faith bestowed by the country's security forces in Tata Motors is a reflection of our pedigree & aspiration to serve the nations challenging requirements on the front lines. The milestone of rolling out the 1500thSafari Storme is the result of the absolute dedication of our workforce, while reiterating our commitment to support Government's 'Make in India' initiative."
Tata Motors has been serving the country's off-road defence and security forces, since 1958 having supplied over 1.5 lakh vehicles to the Indian Military and Paramilitary forces, so far. The company offers products and services that not only meet the needs of the domestic market, but are also positioned to meet most stringent requirements across the world.