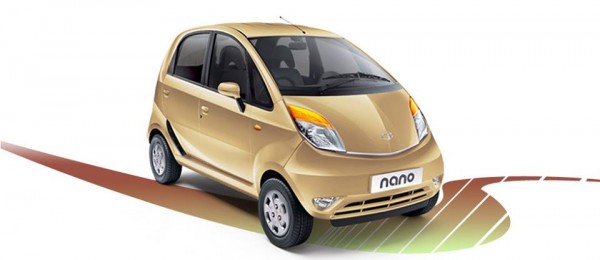 Tata Motors is all set to revive the Nano small wonder which has witnessed dwindling sales. The Nano is an innovative product which was acclaimed worldwide for its frugal engineering and clever design. The car was one of the most awaited launches but could not maintain the hype it received and soon sales reached below the 1000 mark.
Tata Motors have the Nano a major uplift in 2012 with re-furbished interiors and new exterior colours. In 2013, the car was re-positioned to appeal the youth and be perceived as a city car. New features such as twin glove boxes, keyless entry, dashboard-integrated music system with Bluetooth connectivity, a bigger steering wheel and remote central locking were added in the 2013 edition.
All the attempts made so far have not been very successful. The company has invested more than 1000 crores in the Nano project and does not want to kill the brand, but work on a strategy which will appeal the younger people and also able sell 10K units per month.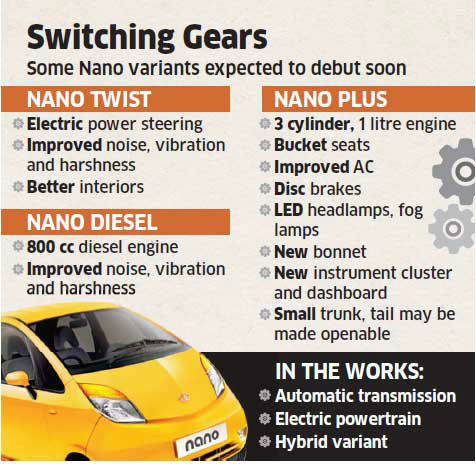 Tata Motors will soon launch two new variants of the small wonder, Nano Twist with a power steering option and Nano Plus with a more powerful engine. The car will also receive a facelift and will sport new interiors.
The Nano Plus will feature a new powerful 3 cylinder 1 litre petrol engine with improved air-conditioning, power steering, bucket seats, disc brakes, LED tail lamps and day time running lights, new bonnet, new dashboard & instrument cluster, a rear hatch with a small trunk. The NVH has also been further improved making the car more comfortable to drive.
The new Plus variant will be the top of the line and will compete with the likes of Maruti Suzuki Alto, Hyundai Eon and Chevrolet Spark
The Nano Twist will feature power steering, improved NVH and plus interiors.
The Nano diesel could see a commercial launch in 2014 but some reports also say the car is unlikely to hit the roads soon, mainly due to the cost factor. When launched, the car will sport a new 3 cylinder DiCOR diesel engine. Tata Motors is also planning to develop the Nano with automatic transmission which is going to be an ideal car mainly for stop and go traffic conditions.  Also in the pipeline are the Nano Electric and a hybrid variant.
In 2014, customers will get a choice of 4 engine options to choose from the Nano with many variants. Currently the Nano is being sold with an 800cc petrol engine and CNG option.
Source: ET