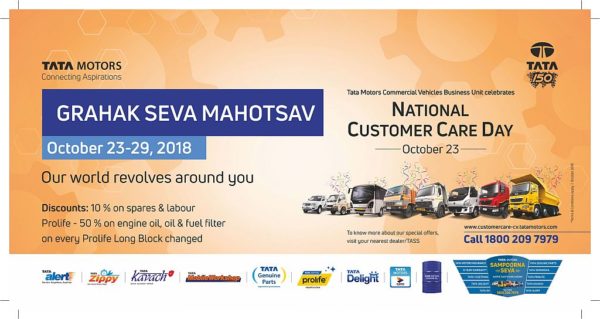 Tata Motors CVBU division celebrates National Customer Care day on 23rd October every year by initiating a nation-wide free service camp Grahak Seva Mahotsav for all Tata commercial vehicle owners across the country.
In the current year the Grahak Seva Mahotsav will take place across 1500+ Tata Motors workshops between October 23 and 29, 2018 where owners can also avail attractive discounts on spare parts, labour and Profile Engine purchases.
The company will also launch the Grahak Samvaad campaign starting from 24th Oct till 31st Oct. Through this campaign, Tata Motors customer care team will organize meetings with the commercial vehicle customers and fleet owners to educate them about the innovative offerings of the company.
Commenting on the occasion, Mr. R. Ramakrishnan, Global Head Customer Care, Commercial Vehicle Business Unit, Tata Motors Limited, said, "Commercial vehicles are the pillars of strength of any country's economy. This initiative has given us an opportunity to support those who support our economy. At Tata Motors, we have always aimed to provide the best after sales experience to all our customers. On the very special occasion of National Customer Service Day, we wish to celebrate the close connect we share with our valued customers and trusted channel partners. The Grahak Samvaad initiative will help Tata Motors achieve new heights of customer satisfaction by providing a host of innovative solutions to commercial vehicle owners."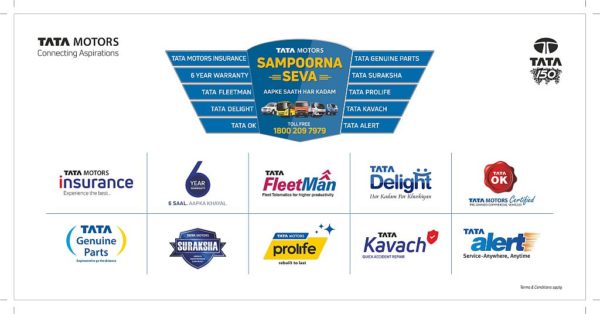 The company aims to achieve complete customer satisfaction and sustain it throughout the life cycle of the vehicle. To achieve this, Tata Motors offers the following initiatives:
·         Customer Care App: Single window mobile application which gives access to a host of features including emergency SOS, Service Booking facility, Maintenance tips, Service History, Dealer location GPS Trip Meter, Daily diesel prices, DEF locator, etc.
·         Tata Alert: Roadside assistance programme with assurance of problem resolution within 24 hours for all Tata Motors commercial vehicle models under warranty period, anywhere across the country irrespective of location. Acknowledgement time of 30 minutes & reach time of 4 hours, else a compensation paid up to Rs. 1000/day.
·         Tata Zippy: This is a repair time assurance programme applicable for any BS4 vehicle which is reported at Toll-free/ Workshop within 12 months from its date of sale or 14 months from its date of production (whichever is earlier). Assurance of problem resolution within 48 hours, else a compensation paid up to Rs. 500 to Rs. 2000/day and up to Rs. 5000/day post 24 hours on Prima Tippers.
·         Tata Kavach: This programme is for accidental repairs with assurance of 15 days repair time or else compensation upto Rs. 2000/day is paid to customers on account of delayed delivery for accidental vehicles. It is applicable for vehicles that are insured under Tata Motors Insurance, at selected workshops only.
·         Priority first: Special priority desk to support premium vehicle segment i.e. Prima & Ultra. 100% monitoring for vehicles reported at workshop. 24 hours vehicle delivery commitment for Prima Tippers or else compensation paid up to Rs. 5000/day.
·         Service Onsite: To meet tight project schedules, tippers are deployed on-site, which are away from town-based dealers or TASS, get on-site service through on-site packages.
·         Mobile Service Van: With this service, customers can avail quick services at their doorstep.
·         Mobile Workshop & Container Workshops: 212+ Mobile Workshops and 513+ container workshops across India provide onsite service to vehicles, to save time and cost of repair.
·         Tata Genuine Parts (TGP): There are 6 warehouses (5 regional and 1 central) which are near to customers for parts supply.
·         Tata Fleet Management Solutions (FMS) is offered to large customers/fleet owners, covering the gamut of vehicle maintenance. Tata Motors takes complete ownership of vehicle repair & provides 24×7 service facility and caters to 71% to City's transport need. The service is presently provided to DTC and CTU covering 5,00,000 Kms daily.