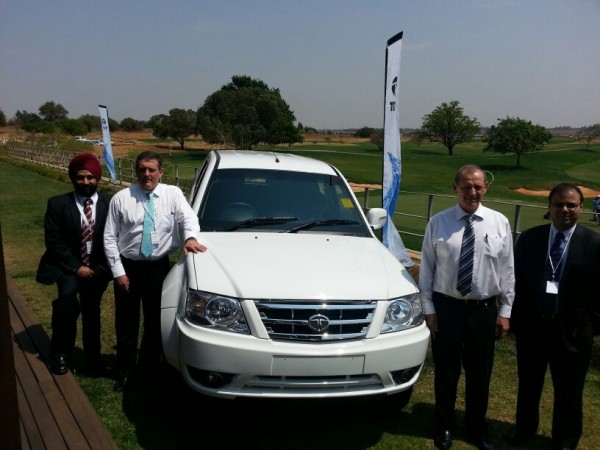 Tata Motors launched the new Xenon XT pick-up truck in South African market. Also known as bakkie in this market, the Xenon XT comes with improved features and performance. The new Xenon is available in four variants: Single Cab (4X2), Single Cab (4X4), Double Cab (4X2) and Double Cab (4X4).
The Xenon XT is targeted towards customer who prefers to use for work and family & leisure. The XT bakkie can be used for farming, mining, construction, small businesses and municipalities. Its excellent off-roading capabilities also make it an ideal vehicle for 4X4 enthusiasts.
Prices of the Xenon XT in South Africa:
Single Cab 4X2: R 189 995
Single Cab 4X4: R 245 995
Double Cab 4X2: R 239 995
Double Cab 4X4: R 269 995
(All prices are inclusive of VAT, 1 South African Rand equals 6.20 Indian Rupee as on 27th September 2013)
The Xenon XT comes with a list of impressive features such as European styling; navigation, Bluetooth,  dual airbags, side steps, bucket seats with armrests, tiltable steering column, ABS, differential lock (available in double cab), and limited slip differential (single cabs) and other comfort features that give it a competitive edge amongst other lifestyle bakkie options in the South African market.
Powered by the by a new generation 2.2L VTT DiCOR the enhanced engine now develops an impressive power of 147PS (110KW) @ 4000 rpm and peal torque of 320 NM @ 1500-3200 rpm). (Note the regular variant available in South Africa produce:113 PS (84.5) and 138 PS (103KW) of peak power). The engine which meets Euro V compliance has been fined tuned to meet the Euro 2 requirements.
Tata Motors is offering a 5 yrs/ 90,000 km service plan, 4 yrs/120 000 km vehicle warranty, 4 yrs/120 000 km anti-corrosion warranty & 4 yrs, unlimited km roadside assistance, the Tata Xenon XT offers complete peace of mind..
South Africa is a key strategic market for Tata Motors and the second best market in terms of sales after India. With launch of the Xenon XT, the company hopes to further strengthen its position.
Tata Motors also retails the Xenon bakkie which is available in 2 engine options: 3.0L and 2.2L diesel engines. The regular Xenon is available in eleven variants. The portfolio comprises of Super ACE (1T mini truck), 207 DI turbo (3.0L worker), the existing Xenon range with eleven variants and the newly launched Xenon XT range with four variants.