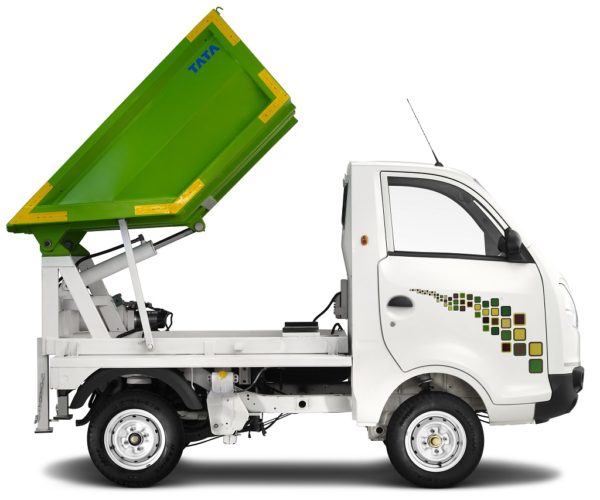 Addressing customers' needs for safer, more comfortable and reliable business ready vehicles from Day 1
Launched the country's first expo for fully built small commercial vehicle solutions, on its popular ACE brand of mini-trucks
A first of its kind in the India commercial vehicle segment, Tata Motors has kicked-off Small Commercial Vehicle Application Expo in India.

Tata Motors 'Small Commercial Vehicle Application Expo' – 'Har Business ka Ace', focuses on the popular range of ACE Small Commercial Vehicles (SCV). Small Commercial Vehicle Application Expo has been started in Mumbai and Jaipur.
Showcases a range of 11 fully built applications, under one roof.
At the 'Small Commercial Vehicle Application Expo' Tata Motors will showcase a range of fully built applications on its popular ACE brand of mini-trucks, with 11 fully built last mile solutions, ranging from Steel Containers, Refrigerated Containers, Insulated Containers, Hoppers, Box Tippers, Water-Tankers and a Cafeteria-on-Wheels.
In 2016, Tata Motors had introduced the Advanced Trucking Expo – 'Truck World, a unique initiative for trucking customers and their families and hosted the Season II of the T1 PRIMA TRUCK RACING CHAMPIONSHIP in March 2015, at the Buddh International Circuit (BIC) in Greater Noida.
Tata Ace is also popularly called CHHOTA HATHI.
The Ace range is versatile and consists of the Ace HT, Ace Dicor TCIC, Ace Dicor NA, Ace EX, Ace CNG, Ace High Deck, Ace Zip, Super Ace Mint and Ace Mega.
Showcasing the versatility of the ACE brand, through this expo Tata Motors is targeting new and existing small commercial vehicle customers, giving them an opportunity to explore newer businesses and providing them employability options with ready for business vehicles from Day 1.
Tata Motors plans to reach out to customers across over 30 locations pan India, giving them an understanding of the advantages of a fully built vehicle, for commercial applications.
Commenting on the occasion, Mr. R.T. Wasan – Vice President, Sales and Marketing, Tata Motors said,
"At Tata Motors we understand our customers' requirements and the launch of the SCV Application Expo, is yet another innovative example of addressing the emerging needs for a safer, more comfortable and a reliable commercial vehicle experience.
 As leaders in the fully-built commercial vehicle space, with the SCV Application Expo, we also hope to cut down on our customers' wait time, by bringing our ready-to-use small commercial vehicles even more closer to them.
Fully Built Vehicles provide for customized off the shelf solutions, with easy-to-operate equipment, also providing us at Tata Motors, with greater opportunities to engage with customers for a larger understanding of the benefits of a Tata Motors commercial vehicle. With application based offerings and added benefits of being backed by Tata Motors extensive service network, we are geared to provide our customers with a unique differentiator, for sustainable business models."