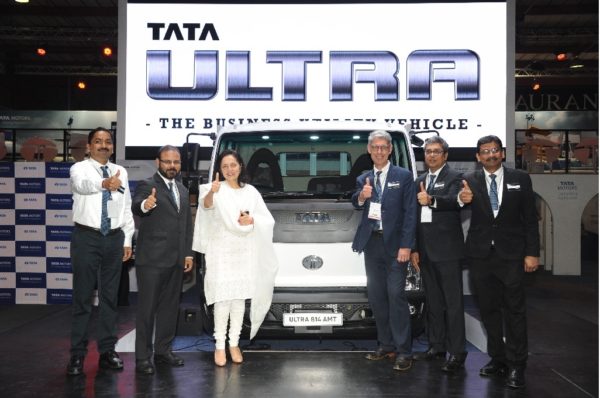 Tata Motors, unveiled its new generation range of commercial vehicles – Tata Ultra, The Business Utility Vehicle at Futuroad Expo, 2017 in Johannesburg, South Africa.
Three new models from Ultra range were showcased including ULTRA 814 (4.5T), ULTRA 1014 (5.5T), and ULTRA 1418 (7.5T). The Tata ULTRA is designed & tested for South African conditions and will deliver five key benefits
Ultra Versatility with multiple wheelbase & payload options.
Ultra Performance with a powerful 140 PS CR engine and new gen 6-Speed Over Drive transmission.
Ultra Comfort with extra space, ergonomic seating, best-in-class NVH and standard HVAC ensuring higher driver productivity.
Ultra Style with elegant & stylish aerodynamically designed cabin.
Ultra Safety with full air brake and a cabin meeting European safety norms
Be it for large fleet, captive users, fleet rental companies or logistics companies, the Tata ULTRA offers class-leading features such as widest cabin & track that makes it one of the most versatile platform for wider and longer bodies. With three wheelbase options & payloads ranging from 3 to 8 tons, the Ultra platform is designed to deliver across applications making this offering a true business utility vehicle.
Commenting on the occasion, Mr. Rudrarup Maitra, Vice President, Commercial Vehicles, International Business, Tata Motors said, "The Tata ULTRA range is a result of extensive feedback from customers in the South African market and we are proud to introduce this pioneering range of trucks here in South Africa. The Tata Ultra 814 is the first variant to be launched in South Africa and we are looking forward to launching the Ultra 1014 and the AMT versions of both models in the New Year. The Ultra range will be assembled locally at the Tata Motors South Africa (TMSA) plant situated at Rosslyn, Pretoria."
Alongside Tata Ultra, Tata Motors also showcased its technologically advanced, smart range of commercial vehicles which included: PRIMA 3338.K 8×4 Tipper, the Super Ace Mint, the Xenon X2  Automatic (AT) 4×4 bakkies and the Prima T1 Racing Truck.