The world's 6th largest CV player Tata Motors has always promoted sporting talent across the country and today the Commercial Vehicles Business Unit (CVBU) of Tata Motors announced a three-year strategic partnership with Wrestling Federation of India (WFI) as 'Principal Sponsor' to encourage and promote the sport of wrestling. The company also seeks to leverage the strong connect with the brands of its CV range.
Beginning with the 2018 Asian Games in Jakarta, this partnership will continue till 2021 that will include the World Championship and World Cup, 2020 Olympic Games, besides other national and international wrestling events.
The company will act as a catalyst to promote the sport, encourage and develop young and rising sporting talent enabling them to achieve their aspirations. As a part of the historic mega partnership, Tata Motors will support top performing 50 wrestlers (both men and women), across categories, on both domestic and international circuit.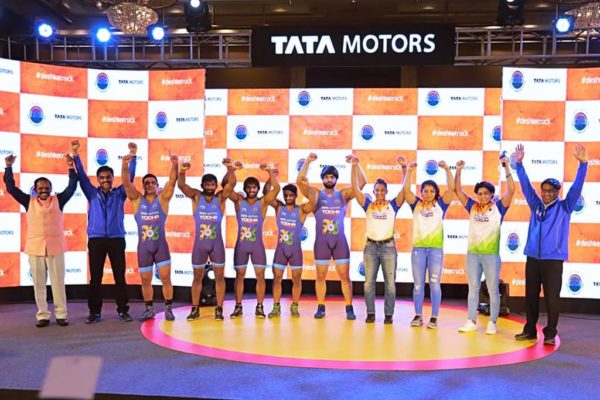 Celebrating this initiative, the new official Tata Yodha jersey for the Indian Wrestling Team was unveiled by the stars of Indian wrestling including Olympic Medallists Sushil Kumar, Yogeshwar Dutt, Sakshi Malik along with Geeta Phogat – India's first women wrestler to qualify for Olympic in 2012 andBajrang Punia, Sandeep Tomar, Pooja Dhanda and Satyawart Kadianin the presence of senior management from Tata Motors CVBU and official of WFI.
Speaking on the occasion Mr. Girish Wagh, President – Commercial Vehicle Business Unit, Tata Motors said, "Today, sports with the energy and dynamism is seen as a major platform for brands to connect with people across India – both masses as well as classes. Commercial Vehicles are the backbone of our economy and for Tata Motors, as India's leading commercial vehicles manufacturer, we see sport as a significant bridge to reach out to various stakeholders – drivers, fleet owners, dealers and distributors, media and the public at large. In line with our brand philosophy of 'Connecting Aspirations', we believe in supporting sports and sportspeople who can take our country ahead with their potential, zeal and passion."
"Wrestling and Kabaddi are homegrown sports that reflect machismo, aggression and endurance that tests speed, agility and power, and are gaining popularity in India and overseas. These attributes blend perfectly with the rich heritage, longevity, durability and robust performance of our Commercial Vehicles that are accepted by our customers in India and global markets. We are truly delighted to associate with Wrestling Federation of India (WFI) and wish our Indian team the very best in the forthcoming Asian Games at Jakarta." added Mr. Wagh.
Commenting on the partnership, Shri Brijbhushan Sharan Singh, President – Wrestling Federation of India said, "We are delighted to have a 'bharosemand partner' like Tata Motors as our principal sponsor for all our national and international events until year 2021. It is a first of its kind association for Indian Sports where a reputed brand like Tata Motors is associating with the entire sport for 3 long years. Wrestling is a game of strength and endurance and these values are perfectly resonated by Tata Yodha vehicle. This is an ideal association as both represent dynamism, being reliable, robust, and rugged with the potential, zeal and exemplary performance to overcome all obstacles and succeed at the highest level consistently. Together, we hope to scale new heights and create more visibility for wrestling as a sport and help young individuals achieve their sporting ambitions."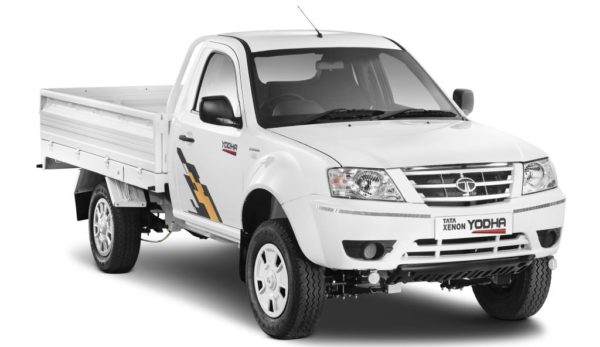 The Beijing and London Olympics medalist, Sushil Kumar, attributed the constant success of wrestlers as the reason for this 'wonderful, long-standing' alliance. "WFI and Tata Motors joining hands to promote the sport in the best way possible should be an eye-opener for all of us. Why I am saying this is because if you perform consistently and win medals, sponsorship will automatically follow. WFI has set a very good example and I am happy for fellow wrestlers," said Sushil.
On her part, Sakshi Malik, the London Olympic Games bronze medalist, echoed her views. "I am happy with the adulation the sport has received ever since 2008 Beijing Olympics; as we have been successfully winning medals in three consecutive Olympics. Women wrestlers, too, are doing a fine job and proving their worth. Sponsors like Tata Motors supporting wrestling is the best thing that can happen to WFI. I am immensely pleased," she said.
The Tata Yodha  will be present at all the WFI events – National Championships, Indian Open, Junior Nationals, World Championships, Commonwealth Games, World Cup, Grand Prix, Asian Games, and Asian Championships, for the next 3 years. Additionally, Tata Motors will have licensing rights to support the players for Asian Games, Commonwealth and Olympics and felicitate the team upon its return.