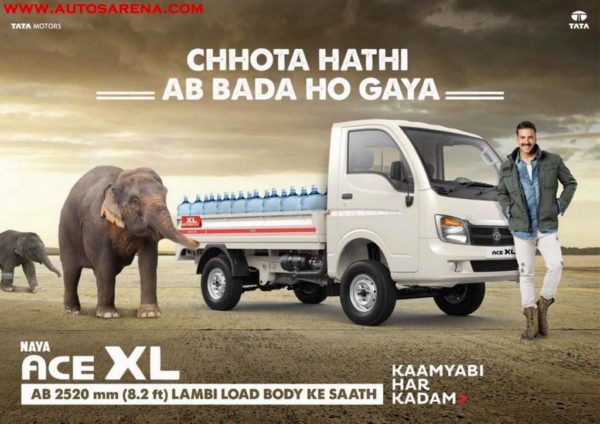 Tata Motors had hinted to launch long wheel base variants of the Ace Zip (Ace Zip XL) and Ace Mega (Ace Mega XL), however the company also intends to introduce the long wheelbase (Ace XL) of the best-selling mini truck in India Ace.
Like the Ace Mega XL, the Ace XL also comes with a 2520mm (8.2 ft) long load body.
Becoming the fastest auto brand to reach the one million mark in 2012, the 'Chhota Hathi' continues to remain true to its promise of being a trusted business partner.
Tata Motors is launching new variants as the company has faced stiff competition from other players which has dented the market share and is losing to new players.
The Ace range includes Dicor TCIC, Dicor NA, Ace HT, Ace EX, Ace CNG and Ace High Deck. We are yet to get confirmation on which all variants the long wheelbase will be offered. We expect the Dicor TCIC and Ace EX to be available in XL variants.
Tata Motors has sold over 1.6 million Ace vehicles in the Indian market in the last 11 years and the Ace is affectionately known as 'Chhota Haathi'.
Also read – Tata Ace Zip XL launches soon, vehicle reach dealers
Also read – Tata Ace Mega XL launch soon, brochure leaked