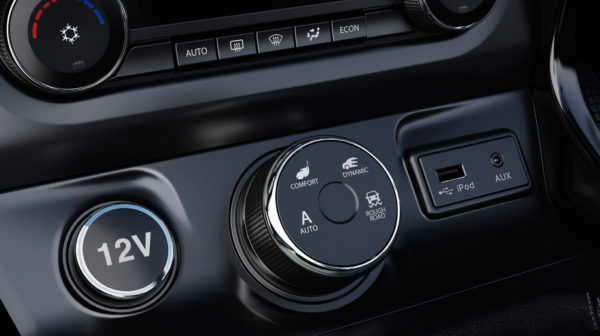 Tata Motors much awaited lifestyle passenger vehicle, the new Tata Hexa, will feature a new 'Super Drive Modes' system,to provide customers with a pleasurable, comfortable and dynamic driving experience.
This 'Super Drive Modes' system allows the driver to seamlessly switch between the four different driving modes – Auto, Comfort, Dynamic and Rough Road, for enhanced ride comfort & stability over different terrains. The new system, is a flawless combination of the vehicles Engine performance, new-generation Electronic Stability Program (ESP), Torque on Demand (TOD), Instrument Cluster displays and the vehicles ambient lighting, that can be activated through a well-placed rotary knob, on the center console.
The new 'Super Drive Modes' system is easy to use, with the advanced technology continuously monitoring the vehicle across different terrains. It provides instant feedback and timely alerts to the driver, with enhanced traction, better vehicle composure and handling, thus enabling smooth, effortless and seamless driving conditions – from heavy traffic to wide open roads.
The Four Different styles of Super Drive Modes system
Auto Mode – In Auto Mode, the new Tata Hexa's performance, is optimized to adapt itself automatically to all surface conditions. Kicking-in the vehicles control systems based on the road conditions, in Auto Mode the system provides for a confident and reassuring drive, regardless of the surface or the kind of driver. With a focus on stability and traction at all times, the new Hexa in Auto Mode is also well balanced in terms of power and safety. In this mode, maneuverability is maintained even in extreme situations, with improved utilization of the friction potential between the tires and road.
Comfort Mode – In comfort mode, the engine power output of the new Tata Hexa, provides for a comfortable drive. In this mode, the engine of the Tata Hexa will deliver precise power, allowing constant cruising speeds on the highway and improving control without loss of ride comfort, for long journeys.
Dynamic Mode – In Dynamic mode, the new Tata HEXA achieves maximum power & acceleration, performing well during extreme handling maneuvers, on curvy roads, or while drifting. In Dynamic Mode the Hexa's ESP kicks in later, or at just about the right time, to ensure safety.
Rough Road Mode – The new Tata HEXA in the Rough Road mode, allows the driver to explore challenging off-road driving conditions or move over other unyielding obstacles. Braking performance is also tuned to support rough road surfaces, in comparison to other drive modes, causing wheel lock ups in a controlled manner. Driving the new Tata Hexa in this mode, not only optimizes ride stability, but also enhances the vehicles dynamic performance, further delivering more progressive control in slippery and tough conditions.
Also read – Tata Hexa goes off-roading, technical specs brochure inside