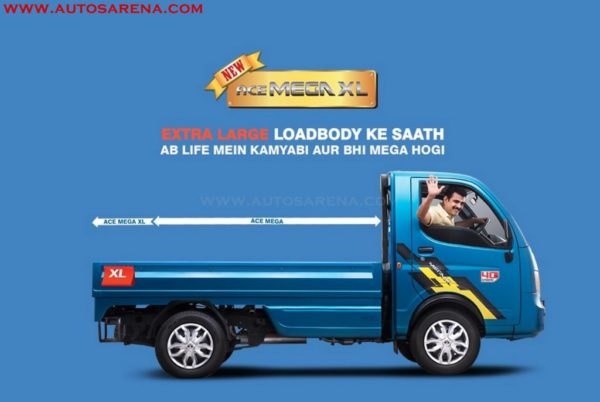 Tata Motors is going soon to introduce Ace Mega XL in the Indian market. We have manged to get hold of the brochure which has an image of the new Ace Mega XL alongside the brand ambassador Akshay Kumar.
We also managed to get the Ace Zip XL brochure and the vehicle sales have already started in select outlets.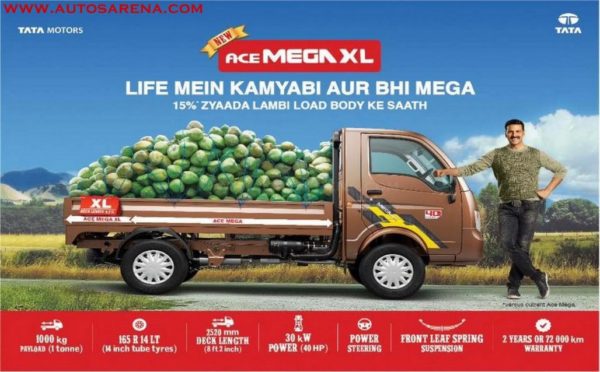 The Ace Mega XL is based on the Ace Mega and was showcased at the 2016 Auto Expo while the Ace Zip XL based on the Ace Zip was showcased at the 2014 Auto Expo.
Ace Mega XL is the new Smart Pickup from Tata Motors with a 40 hp Power and 1 Ton Payload. The XL will get an advanced lightweight aluminium 800 cc BS4 DICOR engine. Transmission includes an smartly calibrated 5-speed gearbox efficiency, for lowest ownership cost.
The Ace Mega XL features power steering, 165 R14 LT Tube Tyre with front leaf spring suspension and a top speed of 80 km/h speed. The long wheelbase Ace Mega comes with 40 HP power and a payload of 1000 kgs.
The deck length is 2520mm (8ft 2 inch) which makes it ideal for carrying high volume goods such as white goods, fish crates, tender coconuts etc. the pick-up truck measures 4,075 mm in length and 1,594 mm in width, the load carrier gets a wheelbase of 2,250 mm. The flat load body measure 2,500 mm in length, 1,430 mm in width, and 300 mm in height.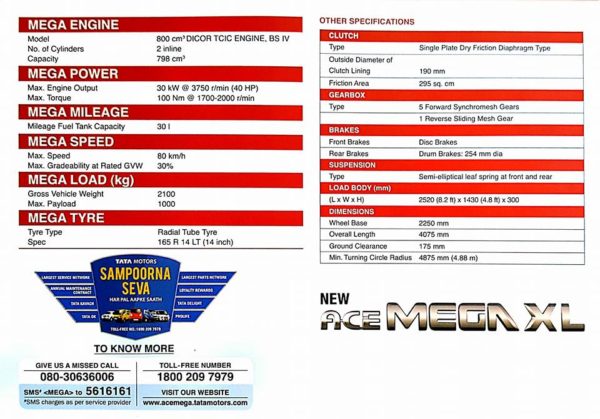 The body is about 15% longer compared to the Ace Mega which has a body length of 2140mm. The reliability, speed and performance of the Ace Mega XL make it the ideal pickup truck for your goods.
The Ace Mega long wheelbase comes with 2 years and 72,000 kms standard warranty.
Also read – Tata Ace XL, Ace Mega XL and Ace Zip XL launch in April 2017