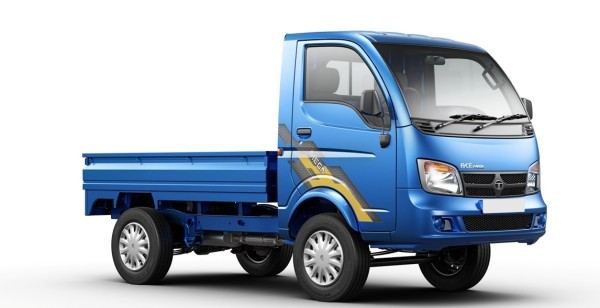 Tata Ace Mega will offer a powerful and fuel efficient 1 tonne payload pick-up truck
Tata Motors officially introduced a new smart pick-up – Tata ACE Mega. The Ace Mega will further enhance the Ace pic-up portfolio and will bridge the gap between the Ace DiCOR and Super Ace. The Ace family has crossed the 10 million mark and with new products the company will achieve higher milestones.
The Ace Mega comes with a advanced 4th generation 2 cylinder 800 cc DiCOR engine and has a rated payload of 1 Tonne.
The  Aca Mega has been designed and developed for maximising revenues of the transport operator by ensuring more trips, more load carrying capability in low turnaround time and meeting requirements of both, intra and intercity transportation and can be easily driven on any kind of terrain.
The vehicle is strategically designed similar in dimensions to the Ace but with a higher payload to perform all tasks of a small pick-up and hence will be an all-rounder in this segment, helping the operator elevate his/her business.
Launched at a price of Rs. 4.31 Lakhs, ex-showroom, Thane, the Tata ACE Mega is available in an attractive Azure Blue color. This power-packed small pick-up will be available for sale initially, in seven states – Uttar Pradesh, Rajasthan, Madhya Pradesh, Bihar, Orissa, West Bengal and Tamil Nadu, and will expand to other states in a phased manner.
New DiCOR engine
The Ace Mega comes with a 4th generation 2 cylinder 800 cc DiCOR engine made of Aluminium which makes it light weight. The engine develops max power of 40 hp @ 3750 RPM and max torque of 94 Nm @ 2000-2500 RPM. The Ace Mega comes with 5 speed gear box and inbuilt SMART Calibration for maximizing fuel efficiency without compromising on the vehicle performance.
A Top Speed of 90 KMPH means low turnaround time, higher profits and carry load over longer distances. The Ace Mega has a Gradeability of 30% which is the best in its class and ARAI Certified mileage of 20.6 kmpl. The Mega runs on 14'' tyres and has a high ground clearance of 175mm
The Ace Mega comes with a comfortable cabin with an ergonomically located driver console, glovebox with lock, provision for music system, mobile charging facility, digital clock and full fabric seats. On the exterior, stylish body colored bumper, new front protective wheel arch eyebrows, new sporty body graphics, wide angle ORVM on both sides further accentuate the vehicle's stance.
Also read – Tata Motors Ace Mega all details & specifications
Leaf spring suspension with rigid axles both in the front and rear, truck-like construction, 7" vacuum booster in the braking system, etc., make the Tata ACE Mega the most suitable vehicle for various applications.
The vehicle also offers a suitable cargo load deck size for market load operation. 14 inch tyres, high ground clearance of 175 mm.
The vehicle also comes with an assured warranty of 2 years/ 72,000 kilometers (whichever is earlier).