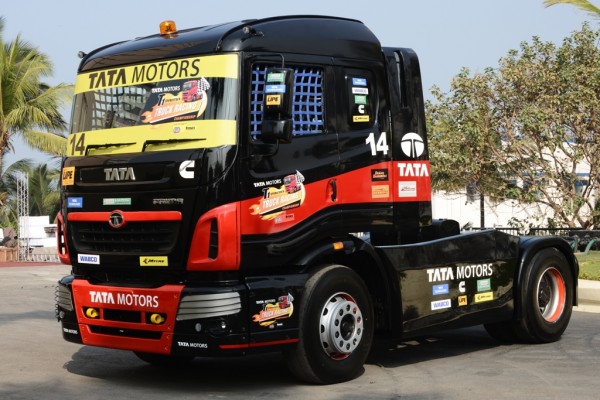 T1 PRIMA TRUCK RACING CHAMPIONSHIP 2016 on 20th March
Sunidhi Chauhan, Badhshah and Neeti Mohan to perform at T1
 Tata T1 PRIMA TRUCK RACING CHAMPIONSHIP is back and this time it promises to bigger and more entertaining. After two spectacular years of action-packed Truck Racing in India, Tata Motors is all set to kick-off Season III of the T1 PRIMA TRUCK RACING CHAMPIONSHIP 2016, at the Buddh International Circuit, Greater Noida, beginning Saturday, March 19.
 In keeping with its commitment of making trucking aspirational for Indian drivers and bringing them to truck racing, Season III of T1 Prima Truck Racing Championship will feature Indian truck drivers race for the first time.
The championship will continue to host experienced international drivers representing six teams, featuring 12 Tata PRIMA race trucks built for the purpose. There will be two race categories, with four races
Two SUPER CLASS – Comprising of Indian race truck drivers
Two PRO CLASS – Two Pro Class – Comprising of Internationally acclaimed drivers with proven experience in the field of truck racing.
T1 2016, Season 3 will also host some of the country's most prominent names from the music and entertainment scene. From the sensational Hip Hop heartthrob Badshah to the vivacious damsel of melody, Neeti Mohan, the scintillating Garima Yajnik with her foot-tapping Indo-western numbers and last but not the least, the ruling diva of Bollywood music with her memorable feast of melody and dance numbers, Sunidhi Chauhan, are few amongst the many other surprises that T1 season 3 has to offer.
T1 PRIMA TRUCK RACING CHAMPIONSHIP teams
Team Castrol Vecton (Last years' champions)
Team Cummins
Team Tata Technologies Motorsports
Team Tata Motors Finance
Team Dealer Warriors
Team Dealer Daredevils
 Tata Motors has also partnered with some of the country's leading automotive brands, for Season 3 of the T1 PRIMA Truck Racing Championship. These are –
WABCO – Official Braking Technology Partner
JK Tyre – Official Tyre Partner
Castrol – Official Lubricant Partner
Cummins – Official Engine Technology Partner
Tata Motors Finance – Official Commercial Vehicle Financing Partner
Tata Technologies – Official Technology Partner
The T1 PRIMA TRUCK RACING CHAMPIONSHIP is organized by MMSC (Madras Motor Sports Club) and is inscribed on the calendars of FIA (Federation Internationale de l'Automobile) and FMSCI (the Federation of Motor Sports Clubs of India) with safety and performance standards being followed as per the guidelines of the BTRA (British Truck Racing Association), who also play in role in the selection of the best British and European Race Truck Drivers, that compete in the T1 Championship.
Tata Motors has undertaken significant changes, for increased performance and safety. Following are some of the technical advancement made to the T1 2016 race truck –
Reduced Centre of gravity by 100 mm, to improve dynamic stability at high speeds
New lighter suspension system, to improve the ride and handling characteristics
New improved shock absorbers, for stability during high speed corner turns
Improved brake cooling system with jet nozzles
New lightweight aluminium fuel tank & water tanks
New tyres of 315/70 R 22.5 introduced in place of 315/80 R 22.5, from last season
Front Flat wheel where mounting face offset is 127 in place of 175 from last season