Suzuki Motor Corporation announced the product and exhibit line-up for the 43rd Tokyo Motor Show 2013. The small car specialist has lined up a number of models which could give some insights of the future Suzuki models. This year the booth's theme is: "Let's Create a Brand New Story".
Suzuki will showcase unique concept models based on the slogan "Small Cars for a Big Future".
Main Exhibits
Crosshiker: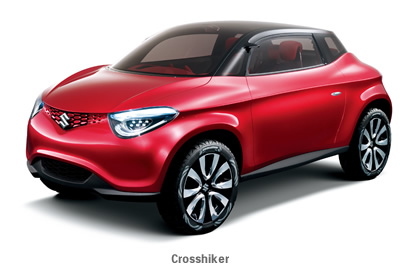 The Crosshiker is a compact crossover, based on the REGINA platform concept car first shown at the 2011 Tokyo Moto Show which is packed with lightweight and fuel-efficient technologies. It features a size of a compact car while weighing 810kg, the weight of a minicar. With a newly developed 1L 3-cylinder engine (which could possibly replace the K-Series in future), it strikes a balance between power performance and environmental performance.
X-LANDER:
The X-LANDER is real 4WD hybrid with a distinctive personality based on the Jimny compact 4WD vehicle. The X-Lander is equipped with a 1.3L engine and a newly developed automatically controlled manual transmission. The highlight is the use of lightweight hybrid system which is equipped with a highly-efficient motor built onto a 4WD system.
iV-4 compact SUV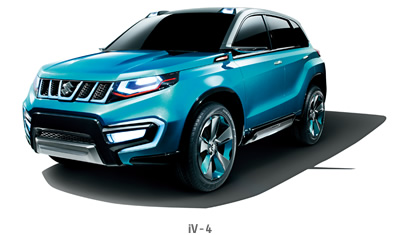 One of the important models which was unveiled at the 2013 Frankfrut motor show will also be showcased at the Tokyo Motor show. The iV-4 compact SUV is equipped with Suzuki's next-generation 4WD system ALLGRIP and could soon be signed off for production considering growing Compact SUV segment and all Global players launching a model in the same segment.
HUSTLER & HUSTLER Coupe: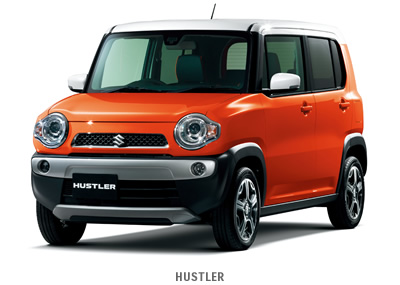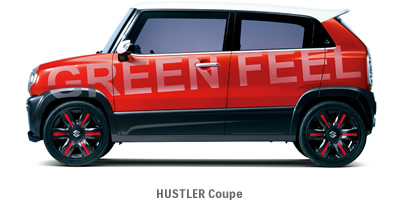 Suzuki's new-genre minicar Hustler & Hustler Coupe which offer stylish yet practical design.
Production Models
Compact cars:    Solio / Swift / Swift Sport
Minicars: Wagon R / Wagon R Stingray / MR Wagon Wit / Spacia / Spacia Custom / Alto Eco / Alto Lapin Chocolat / Jimny / Carry / Spacia (wheelchair-friendly model)
Motorcycles
Recursion compact roadster powered by a 588cm3 water-cooled in-line 2-cylinder engine with an intercooler turbo
EXTRIGGER: an electric mini motorcycle that offers new sensation to have fun.
V-Strom 1000 ABS: the flagship model of the Sport Adventure Tourer
2014 Hayabusa
GSR250S
BURGMAN 200 scooter