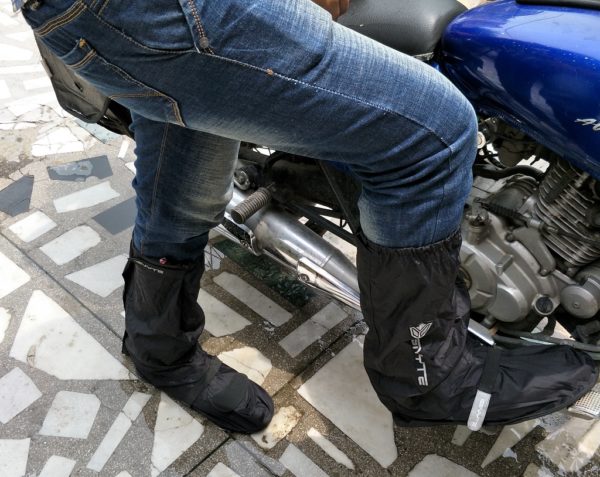 Riding a bike with expensive leather shoes is a nightmare. You can protect your clothes with raincoats but what about your favorite shoes and loafers which are too delicate to bear the rain and mud.
Steelbird has introduced the internationally famous brand IGNYTE and its range of Shoes Cover in India, which can be worn directly on the shoes to protect them from mud and rain.
Styled in Italy for the Global market, IGNYTE range had previously launched other products including Rider pants and raincoats.
Rain covers for shoes protect your shoes from excessive rain, annoyance, and discomfort. IGNYTE range of Shoe covers is made up of 100 % Polyamide fabric with elastic and Velcro for better gripping. The fabric is water repellent and breathable with reflective on both the sides. The rubber part attached above toes makes gear changing extremely easy.
The Shoe cover is light in weight and compactly packed so that carrying it becomes hassle-free. Apart from protecting in the excessive rain, IGNYTE shoe cover also increases the lifeline of your shoe and keeps them new.
In India, the product range is retailed at Steelbird helmet shoppers and other high-end bike accessories showrooms.
IGNYTE wears are specially designed for youth who loves to drive with tremendous Style, comfort & protection.
The IGNYTE Shoe Cover is priced at Rs 1,349 and is available in attractive colors.
USP's of IGNYTE:
100% Nylon Fabric
100% Water Proof
Breathable fabric to remain fresh
Required very less space due to amazing and compact packing style
All seams are sealed with PU Tape
As per international standard
Lighter in weight, but trendy in looks
Best quality elastic for perfect gripping
Available in all sizes: S to XXXL
Designed in Italy