India Trade Promotion Organisation (ITPO) & Exhibitions India Group is organising the 4th edition of the much acclaimed One Mega Event. Scheduled between May 23 and May 25, 2018 at New Delhi's Pragati Maidan, the event will have companies from 40 countries – from ground-breaking start-ups to blue-chip multinationals – unveil their latest technology products and services across 20,000 square meters of exposition space.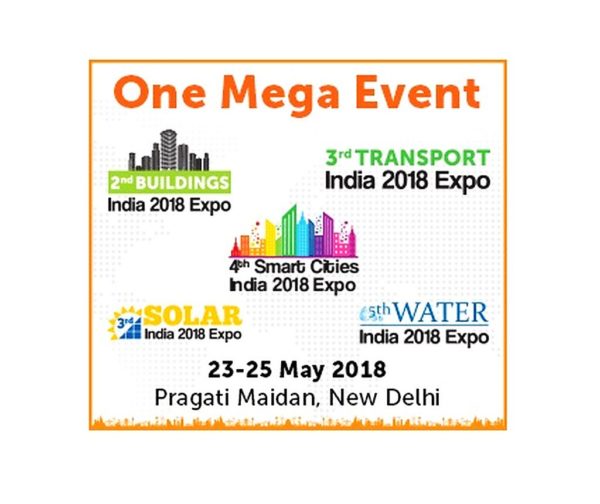 Launched in 2015, One Mega Event is the largest trade show and conference of its kind in the country. It brings together global industry leaders, exhibitors, industry associations, speakers, government administrators, municipal bodies, urban planning experts, investors, pioneers, technology innovators, architects, academia, and the media to envision the cities of tomorrow. Together, they share their views and proposals for making cities more viable, efficient, transparent, and, above all, enhancing the quality of life of its residents.
Government and business delegations from all over the globe are expected to attend the event that incorporates five vertical expos, namely Transport India 2018 expo: Smarter transport for a sustainable future, Smart Cities India 2018 expo: Smarter solutions for a better tomorrow, Buildings India 2018 expo: Building a sustainable future,Solar India 2018 expo: Solar energy for a sustainable future, Water India 2018 expo: Clean water for a sustainable future. Featuring amongst the participants at the event will be some prominent entities such as Epson India, Havells, Infineon, JK Cements, Johnson Controls, National Highway Authority of India, National Mission for Ganga Rejuvenation, New Delhi Municipal Corporation, ST Micro, Tata Group, and Vikram Solar. One Mega Event will be sponsored by SAP and Schneider Electric.
Ranked #1 on Google listings, and considered a must-attend event in this genre worldwide, One Mega Event features action-packed conference sessions, panel discussions, and plenary sessions, and provides opportunities for one-on-one meetings, group discussions, and networking activities. A full line-up of over 50 conference sessions enables delegates to collaborate and share best practices across a wide range of smart technology areas. Through a world-class exhibit space, One Mega Event ensures an experiential trade show for all involved in promoting efficient buildings, solar power, smart transportation, smart cities, and smart water management.