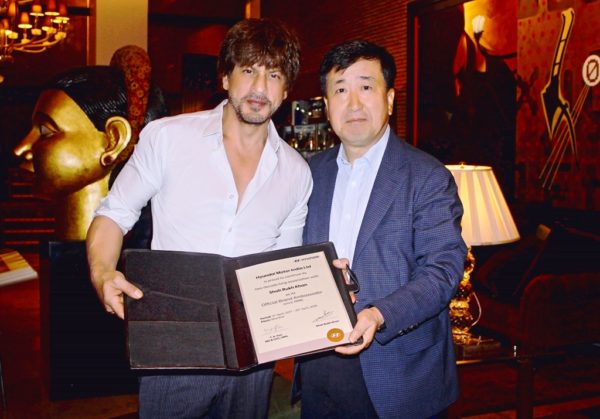 Bollywood superstar Shah Rukh Khan has been Hyundai's brand ambassador since the last 19 years. This is perhaps the longest brand ambassador partnership in the industry. And Hyundai Motor India Ltd (HMIL) is in no mood to seek another face to represent itself in this highly competitive Indian automotive market. They have chosen to retain SRK as their brand ambassador in India.
Speaking on the association, Mr. YK KOO, MD & CEO, Hyundai Motor India Limited said: "SRK is one of the first "HYUNDAI FAMILY MEMBERS" and has played a key role in the success of SANTRO since our inception in India. Hyundai's association with Shah Rukh Khan has enhanced and propagated our brand values. Shah Rukh Khan has a very strong image of a family person and represents strong family values. Hyundai being a household name in automobiles in India connects strongly with Shah Rukh Khan and over the years, both have emerged as the most loved and trusted names. We are extremely happy and honored to continue this two decade long association and are confident that it will further strengthen Hyundai brand image in India."
Commenting on the occasion, Mr. Shah Rukh Khan, Corporate Brand Ambassador – Hyundai Motor India, said: "It has been a really wonderful journey with Hyundai as we complete 19 years of a fruitful association. It has always been a delight to be with a Modern Premium car brand. It's been very satisfying in terms of association as brand ambassador with Hyundai, as Hyundai has delivered much more than cars through its innovative experiences, adding brilliant moments to customers' lives. This is not just an endorsement for me, the brand Hyundai is family to me, and we have grown together!"
HMIL is today the 2nd largest car manufacturer and largest passenger car exporter in India. In 2010, Shah Rukh Khan won the 'Brand Ambassador of the Year' award for Hyundai i10 at NDTV Profit Car & Bike Awards.