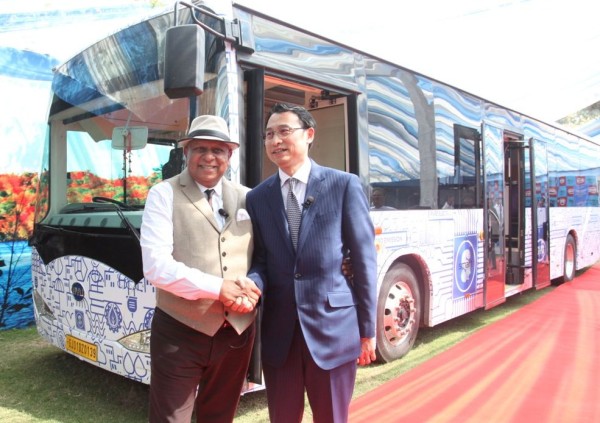 Dr. Bhupendra Kumar Modi, Singapore based entrepreneur, investor, and philanthropist; today announced his entry into the Electric Vehicles industry under the brand 'Smart Dreams'. Smart Dreams is a conscious attempt to provide affordable, completely pollution-free, world-class transportation on Indian roads. While making the announcement, Dr. Modi said, "I have a dream to see a healthy and happy India."
Dr. Modi is known for following astute corporate governance practices across his businesses, and for pioneering a series of firsts in business – like transforming white collar productivity with Modi Xerox and pioneering mobile telephony improvements with Modi Telstra and Spice Telecom. Along with e-vehicles, his fund is currently investing in areas like clean energy, smart cities, and healthcare. He is also the founder of Global Citizens Forum, a Singapore based non-profit organization where he is attempting to create a world without borders, gender, nationality.
At the press conference, Dr. Modi unveiled the first-of-its-kind electric bus manufacturing facility at ModiCiti (next to Muradabad), India. His company 'Smart Dreams' aims to take a lead in the pure-electric vehicles segment, by being the first and only Indian corporation to delve into production of pure-electric vehicles, with a primary focus on public transportation. They plan to enter public transportation through e-bus & e-taxi with pure-electric offerings. In order to fulfil this vision, Smart Dreams has tied up with BYD (Build Your Dreams) Auto Industry Co. Ltd. – the world's leading electric vehicle manufacturer. BYD has set up an electric bus manufacturing plant in southern California in 2014 and has a contract to supply electric buses to Los Angeles County. In the past 2 years, its electric buses or cars have gone into service from Montevideo (Uruguay) to Jakarta.
Given the rising concerns of pollution and public health in the Indian capital, Smart Dreams is one of the first automobile industry players to display its commitment and offer two pure-electric buses to Delhi Government for free trial. These buses are currently being tested on a commercial route pre-allocated by the Delhi Transport Corporation.
The buses are completely air-conditioned with first class comfortable seating facilities, and have a battery life of more than 4000 recharging cycles. They can cover a distance of 250 kms on a fully charged battery. Further, the battery used is recyclable, and addresses this environmental concern as well. In line with the government's 'Make in India' initiative, the vehicles will be manufactured in India. These e-vehicles can be charged in the night hours when power stations and grids usually remain underutilized.
Speaking on the occasion, Dr.Modi said "The government is committed to turn the country into smart and clean India, and has announced many initiatives and projects in this direction. In an environment where development is being directed towards sustainable coexistence, I believe that this will be a highly successful project for the Smart group. We have partnered with the world's largest player in the e-vehicle market, BYD Company Limited (BYD), to bring in world class technology to the country".
He further added, "Today, countries like China have put air quality on same priority as core sectors like infrastructure and defence and it's about time India did the same. For the same, the Govt. in India will have to take bold steps and incentivize citizens and industry players to adopt electric vehicles. One of the ways we could encourage the industry is by making it a zero tax (duties, customs, excise etc.) industry".