Shri Venkaiah Naidu, Vice President of India, flagged off the annual JK Tyre – Constitution Club of India (CCI) Car Rally for Parliamentarians this afternoon. The rally, commemorated to pay homage to the former Members of Parliament (MPs) who had lost their lives in tragic car accidents and was witnessed by eminent personalities and Parliamentarians.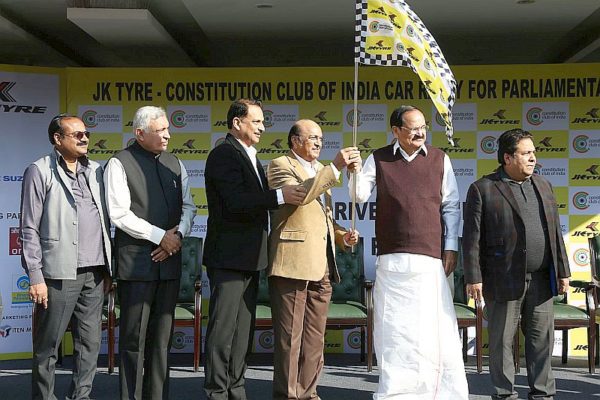 63 cars participated in the rally which took a 34-kilometer route, from Rafi Marg to Thyagraj Road before converging onto Teen Murti Marg to end their ride at the CCI. The participants, some of whom were accompanied by members of their families, tested their navigational skills with the idea to create awareness about Road Safety while complying to traffic rules.
Speaking on the occasion, Dr. Raghupati Singhania – Chairman and Managing Director of JK Tyre & Industries Ltd. said,  "We have been conducting this rally for the last six years and it goes with JK Tyre's motto of 'Drive Safe, Drive Responsibly'."
The Vice President along with noted Parliamentarians including Shri Rajiv Shukla and Bharatiya Janata Party's (BJPs) MP Shri Ranvijay Singh Judev, paid tribute to former members of Parliament including former President late Gyani Zail Singh, and late Shri Gopinath Munde who had lost their lives in tragic road accidents.