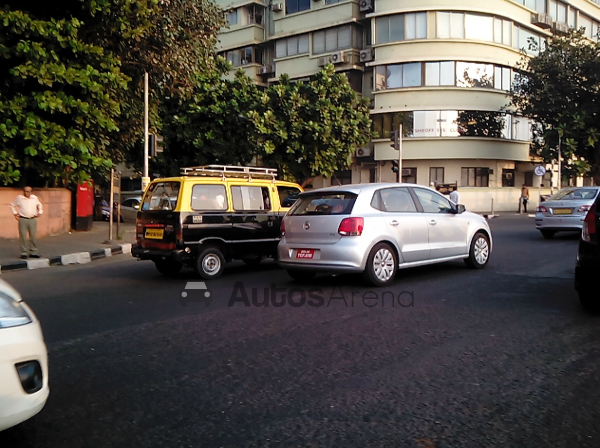 It's no secret, Volkswagen has been working on a facelift for the Polo hatchback. Launched in 2010, the Polo has been in the market for 4-years without any changes to its design. Add to that the pressure from new entrants in the market, such as the Ford EcoSport, Honda Amaze, etc. and this seems like an ideal time for a mid-life refresh.
While earlier sightings of Polo test-mules have been reported on international forums, we didn't expect it would make it to India this soon. Our lenses captured (Well, almost.) a Polo with 'TCF' plates on Marine Drive this afternoon. These 'TCF' or Trade Certificate plates are for pre-launch cars that are out on public roads on test. Although it may look like just the standard car, there were a few giveaways to it. The front for instance was similar to the European car and had a different radiator grille and headlamp design. The rear & side profile of the car seemed unchanged, though the production model could differ on this. Unfortunately, we could just snap the rear of the car, because of heavy traffic.
The car carried the 'GT TDI' badges, which comes only in the top-end 'Highline' trim. Weirdly, it didn't have alloy wheels or fog lamps that are otherwise part of the standard kit. The current GT TDI is powered by a 105 BHP, 1.6 litre diesel engine that also does duty on the Vento sedan. Speculation has been ripe about VW working on a de-tuned 1.5 litre block of the same engine, to avail excise duty benefits on its cars. Although we cannot confirm if the car spotted by us had that unit, VW could be testing the new engine in Bombay traffic.
An auto-expo debut for the Polo facelift seems unlikely, though this test-mule confirms the launch will happen in the upcoming months. Watch this space for developments on the Polo facelift as they happen.
Thanks to Abhinav for the tip & image (Apologies for the picture quality as it was clicked in a hurry with a phone camera).