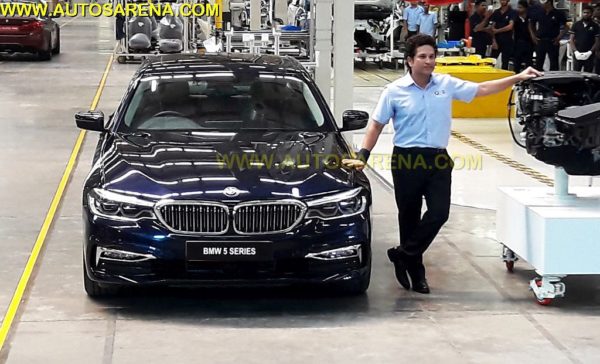 BMW India celebrated the 11th anniversary of its Chennai plant with the launch of SKILL NEXT initiative at the hands of legendary cricketer Sachin Tendulkar and engineering students of Anna University.
It was an experience in itself to watch them assemble the BMW TwinPower Turbo in-line 4-cylinder diesel engine with the eight-speed steptronic automatic transmission for a locally manufactured BMW X3.
Also read – BMW Group Plant Chennai starts production of the all-new BMW X3
The SKILL NEXT is a revolutionary project where-in BMW India will provide 365 BMW engine and transmission units to engineering colleges and technical institutes free of cost for learning purposes.
This is first time any auto manufacturer in India has undertaken such a mass scale initiative to help technical students learn about advanced engines and transmissions.
As a precautionary measure, the institutes will have to submit an undertaking that the units will be used inside the campuses for learning purposes only. Through this project, BMW India aims to reach out to students in every state and union territory of India.
Speaking on the occasion, Mr. Sachin Tendulkar said, "I strongly feel that initiatives like SKILL NEXT» will promote development of automotive engineering skills in our country. It is an opportunity for technical students in every state and union territory to get directly trained on BMW engine and transmission. I could have never played cricket by just reading about it, I had to be hands-on with the game. Similarly, SKILL NEXT» will make it easier for the students to understand automotive technology through first-hand experience."
(Click on thumbnail to enlarge pics)
Mr. Vikram Pawah, President, BMW Group India said, "The luxury automotive segment in India has witnessed tremendous growth in the last decade and with the growing number of cars on road, there is a high requirement of good technical talent in the industry. 'SKILL NEXT»', will strongly promote the development of technical competencies in students across the country by enhancing their practical knowledge of advanced automotive technology. This initiative will also contribute in increasing the availability of skilled technical staff required at automotive dealerships in India."
BMW India has also devised a 'Train the Trainer' module for institutes where 40 after-sales Master Technicians will conduct extensive workshops at BMW dealerships. The workshops will be a combination of classroom sessions and hands-on practical sessions using detailed training materials.
Dr. Jochen Stallkamp, Managing Director, BMW Group Plant Chennai said, "For BMW Group Plant Chennai, skilled workforce is the foundation to make finest cars of outstanding quality. The know-how of advanced technology and the confidence to work with state-of-the-art machinery and complex processes is a great asset in engineering field. 'SKILL NEXT»' initiative will facilitate development of talent in the future generation of engineers. These skills will open up new doors for a workforce that wants to make a successful career in automotive industry in India."
The engines and transmissions that BMW will be offering to students are those units which were water affected during extreme rain and weather conditions in Chennai in recent past. Since the units were insured, the insurance company Bharti AXA not only honoured the claims but also agreed to BMW's proposal of offering the affected units to engineering colleges and technical institutes.
Mr. Sanjeev Srinivasan, Chief Executive Officer and Managing Director, Bharti AXA General Insurance said, "When BMW Group India approached us with the innovative idea of 'SKILL NEXT»', we were excited to be part of it. We at Bharti AXA General Insurance are always willing to explore ways that allow us to contribute towards the betterment of the society we live in. The contribution of engine and transmission units for educational purposes was a marvelous opportunity to do so. Vehicle insurance premiums amount to nearly 45% of Gross Written Premium (GWP) recorded by the General Insurance industry and is considered to be a growth generator for the category. We strongly believe that as leading players in our arenas, we have both the responsibility and the means to bring about change for good and upskill our future leaders to deliver efficiently. It is a pleasure to initiate this rare opportunity that can make a meaningful difference to the society."
Dr. T V Geetha, Dean – College of Engineering, Anna University, who was present at the event said, "In engineering, clarity of concepts is fundamental for creation and innovation. In a fast moving world where technology is constantly progressing, experiential learning plays a very important role. Reading about refined technology in books and getting a chance to experience it first-hand are completely different. With 'SKILL NEXT»', students will be able to use the BMW engine and transmission units to observe, practice, absorb knowledge and use it effectively in actual scenarios. This initiative will go a long way in motivating students and making them passionate about real and practical engineering aspects."
The BMW Group Plant Chennai started operations on 29th March 2007. It manufactures the BMW 3 Series, the BMW 3 Series Gran Turismo, the BMW 5 Series, the BMW 6 Series Gran Turismo, the BMW 7 Series, the BMW X1, the BMW X3 and the BMW X5. BMW Plant Chennai will start the local production of MINI Countryman in 2018. BMW Group India has over 650 employees and 43 sales outlets in India.