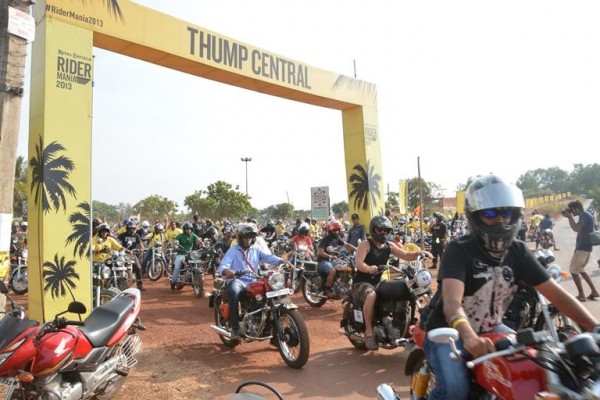 Rider Mania: 21st November – 23rd November
Rider Mania, the biggest gathering of Royal Enfield riders is all set to make Goa buzz with the familiar sound of a few thousand Royal Enfield motorcycles and the friendly laughs and banter of biker brothers. The 3 day motorcycling extravaganza at Vagator is scheduled to start from 21st November and conclude on 23rd November, making it the most definitive motorcycling festival in India. With more than 5000 riders expected to join three days of music, mirth and odd riding skills, Rider Mania will host thousands of fans and enthusiasts making this edition, its biggest ever.
Organized by Royal Enfield, Rider Mania is perhaps the only motorcycling festival in India where one can see the various ways in which people celebrate motorcycling through music, art, photography and lifestyle apart from the various competitive and fun events organized for the riders and their family that bring alive the Royal Enfield's spirit of motorcycling at its purest. Royal Enfield owners from around the country ride in to Goa to participate in this motorcycle fest that features activities and entertainment that promote biker camaraderie and provide the perfect platform to showcase one's passion for motorcycling and the Royal Enfield brand.
The festival has an exhaustive line up of motorcycling events that include Trials, Dirt Track Racing, Slow Race and Assembly Wars that will be held under floodlights. Royal Enfield has also organised special sessions on photography and motorcycling trails. A special enclosure displaying Royal Enfield's range of apparel will showcase the latest in motorcycle fashion along with a few neat accessories to customize your Enfield. This year too, custom made motorcycles, designed exclusively for Rider Mania will be on display at a special enclosure inside the venue. These motorcycles are an expression of the designers' motorcycling spirit and craftsmanship.
There will also be a competition to judge the best custom bike of Rider Mania 2014. Like every year, the Celebration Ride will take place with all the participants riding through the streets of Goa to celebrate the motorcycling spirit of the riders and Royal Enfield. Music being the intrinsic part of every festival and also of Rider Mania, the 2014 edition will see performances from Papon and the East India Company, Nucleya and Vir Das' Alien Chutney and Skrat.
For all Royal Enfield riders and enthusiasts, Rider Mania 2014 is an event hard to miss.