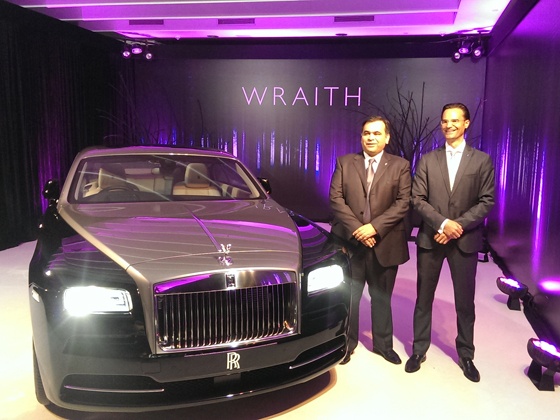 Rolls Royce, a brand which is quite famous amongst the Maharajas of India has launched its seventh product in the Indian market, the all new Wraith which is the fastest and also the most dynamic model the company has ever built.
The car is priced at Rs. 4.6 crores, ex-showroom Delhi (which is usually the base price and you end up paying even more crores in customizing the car to suit your needs)
At an event which also marks the fifth anniversary of its showroom in Delhi, the Wraith does push the brand in a new dimension. The Wraith is a car for the curious, the confident and the bold. The coupe is based on the Ghost platform and is powered by a 6.6 litre, twin turbo-charged V12 engine which delivers 624 bhp with 800 Nm of torque, accelerating from 0-62 mph in 4.6 seconds.  The company claims the Wraith to be most powerful Rolls-Royce in history. The engine is mated to a 8-speed ZF transmission which is also found in other BMW cars.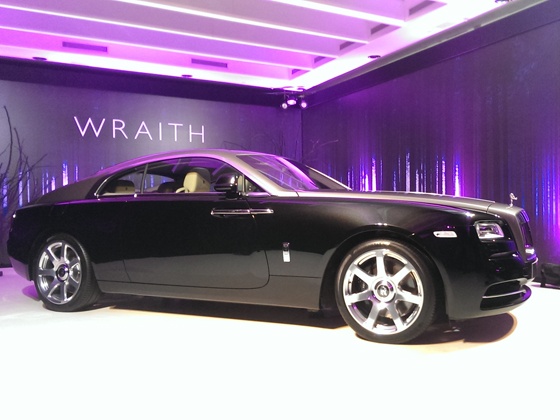 In terms of dimensions the car has a shorter wheelbase than the Ghost by 130mm, shorter by 183mm, is 43 mm lower and has a 40mm wider track. The car will compete with the likes of Bentley Continental GT.
Rolls Royce plans to add two new dealerships at Chandigarh and Ahmedabad. The company currently has three dealerships: Delhi, Mumbai and Hyderabad.
Rolls Royce also announced an all India city tour where the Wraith will be showcased starting from Delhi.