It was a Toyota like never before when launched in the year 2014. Back then, the 11th gen Corolla was a stunner grabbing a lot of attention and today, 2 years later it still doesn't look outdated or pale in comparison to its rivals.  Yes, the competition has moved on but the Altis still rules the D segment with elan.
Reviewing the Corolla in 2016 was all the more special for us as it marks the 50th anniversary of the Corolla DNA. Debuting in Japan in the year 1966 with a 1.1 litre engine and 4 speed transmission, the Corolla has come a long way and has won many accolades in this glorious journey of 50 years.
The key to Corolla's success lies in its original "80 point doctrine + Alpha" and the belief of its first development leader Tatsuo Hasegawa that "Corolla must bring happiness and well-being to people around the world". The 80 point doctrine demanded Zero defects and the +Alpha was added to capture people's heart by offering them something more than expected.
In 1997, the Corolla became the world's best selling compact car and is today being manufactured in 15 plants and sold in more than 150 countries. With more than 43 million units sold worldwide, it is recognised as the world's most loved sedan.
While developing the current model, Toyota engineers received a feedback from previous generation Corolla owners that though the car was pretty good in most aspects, it didn't have enough excitement when compared to its rivals.
So it was decided that the 11th generation Corolla would have a special focus on design, luxury and driving agility while retaining its core values of quality, reliability and dependability. And the final outcome was phenomenal.  As we said earlier, the 11th generation Corolla was a Toyota like never before and generated a lot of buzz in the industry!
For this review, Toyota Kirloskar Motors (TKM) offered us a 2 year old, top of the line 1.8L CVT model which had clocked several thousand kilometres as a review car in Toyota's fleet. Our review comes up after driving the car for 900 odd kilometres in a span of 6 days which included routine city drives and a 600 kilometre trip on the highway as well.
EXTERIOR
View the Corolla from any angle and you will agree that it has all the elements of a contemporary executive sedan. The Altis looks flamboyant from the front, sophisticated in profile and discreet towards the rear. It sits higher to the ground which gives it a dominating personality in comparison to its rivals. This stance also helps in easy ingress and egress, especially for tall and elderly folks.
The Altis gets huge doses of chrome treatment but does not look overdone, thanks to the large dimensions of the car. The 16 inch tyres with 10 spoke silver alloys also help in enhancing the poise of the car.
Like in the Camry, the Altis gets a designer touch to its headlights. The neatly crafted headlamp cluster has a combination of DRLs, LEDs & Halogens which not only illuminate the roads exceptionally well but also look stunning when lit up. Fog lamps embedded in the bumper look generic.
INTERIOR
Step in to be greeted by a dual tone black-beige cabin which is a big step-up from the older Corolla. The dashboard, steering wheel and door trim is completely new while the seats remain large and generous like every Toyota.
The beige seats look premium, offer good support and are a mix of genuine and high quality synthetic leather. And while the driver gets 8-way electrically adjusted seats with lumbar support, the rear passengers get their dose of comfort by way of seats with a reclining back-rest and class leading legroom.
Despite the fact that the Corolla misses out on rear air-conditioning vents, it makes up by a way of a powerful AC unit which cools the entire cabin in no time. Lack of rear AC vents and the absence of a transmission hump means that the rear section of the cabin looks uncluttered and 3 passengers can settle down comfortably on its wide bench without rubbing shoulders or jostling for space. Overall seating comfort in both rows is top-class.
Convenience kit for the top spec Corolla includes keyless entry and go, front & rear arm-rests, sunglass holder, rear sunshade, steering mounted audio and telephone controls, reverse camera, auto headlamps and wipers, cruise control, electrically retractable door mirrors, courtesy lamps, illuminated vanity mirrors, illuminated cup holders in centre console, illuminated glove-box and illuminated foot-wells.
However, while the overall cabin experience is a huge improvement over the earlier Corollas, it still falls short in terms of plastic quality at some places, especially when compared to the Octavia, Elantra and Jetta.
DRIVE & PERFORMANCE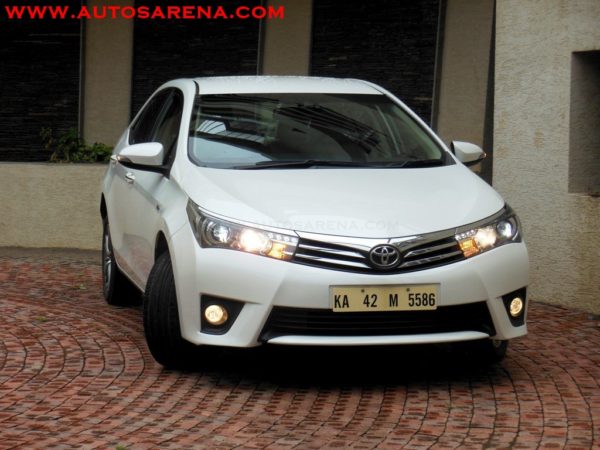 Driving the Corolla is an enjoyable experience. Keyless entry & Go means u just have to approach the car with key-fob in your pocket, settle down to a comfortable position in the driver's seat and press the power switch as u depress the brake pedal.
The engine fires up instantly and the car gets into motion as you slide the gear stick from parking to drive mode. The entire process is effortless and so is the drive and handling. Despite its large dimensions, the Corolla Automatic is easily manoeuvrable in dense city traffic and tight spots, thanks to the superior ergonomics, light steering and advanced CVT transmission. The generous glass area all around also adds to the visibility factor.
The dashboard gets a centrally mounted 7 inch infotainment unit which feels a generation older and is devoid of snazzy graphics. However, it is very user friendly with functions such as satellite navigation, audio controls, and Bluetooth phone connectivity. The audio quality from the 6 speaker music system is decent and most owners won't feel the need of an upgrade.
There are adequate storage spaces for sunglasses, mobile phones, fuel bills/toll receipts, coins, wallet etc. All door pockets get large bottle holders and there are two cup-holders on the central console too. Both rows also get centre arm rests. The rear one gets 2 cup holders while the front arm rest gets dual storage compartments.
While the Corolla is surprisingly easy to manoeuvre in city traffic, it is on the highway where it shows its true colours. With its smooth and liner power delivery, the refined 1.8 litre engine has a temperament that is matched for sedate driving but that does not mean it is slow by any definition. As the roads open up, the Altis briskly picks up pace and reaches 3 digit speeds in an effortless manner.  Between 100 kmph to 130 kmph it glides in a relaxed state and once you engage the cruise control, driving is pure bliss.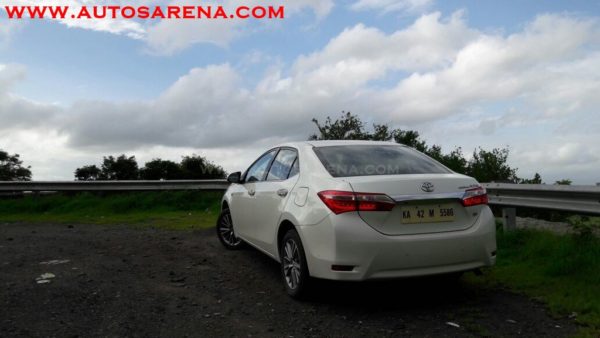 A Super CVT-i transmission means that the infamous rubber-band effect is almost absent and it operates seamlessly across various torque bands. For those interested in taking complete control, the paddle shifts work brilliantly. Alternatively, the gear stick can be engaged into manual mode also for some spirited driving.
The engine note is audible when revved hard, but overall it's masked well and it is the road noise that filters in especially on coarse surfaces. While the sound insulation is better than before, it's not the best in its segment.
The car feels sprightly and agile on the highway with commendable straight line stability, predictable handling and confident braking. The cabin does not offer class leading equipment but seating comfort is definitely in the top league.
A large cabin, luxurious seats, deep foot-wells in both rows, adequate headroom and knee room, large windows and a pleasant beige-black theme makes the cabin a very roomy place to be in and promises to keep its occupants comfortable and relaxed even on long highway trips.
The high ground clearance ensures that the car does not scrape its bottom over speed breakers even with 4 adults on board. Overall, the suspension does a good job to dampen shocks but the ride does become choppy on pothole ridden roads. However when speed is in control, there is very little vertical movement on most undulations.
As we mentioned earlier, our review car was 2 years old with several thousand kilometres on the odometer. However, the car drove like new, handled impeccably and there were absolutely no squeaks or rattles even on the bumpiest of roads.
FUEL TANK CAPACITY & MILEAGE
We have to admit that the 1.8L Corolla Altis automatic sips fuel judiciously and won't necessitate frequent trips to the gas station. With the air-conditioner on at all times, it returned a respectable mileage of 14 kmpl on the highway with 3 occupants and their luggage on board.
The worst mileage as indicated on the MID was 8.9 kmpl during peak-hour traffic in Mumbai. So with a large 55 litre fuel tank, we can safely assume that on a full tank the Corolla can cover close to 600 kms on the open highway. The distance to empty indicator also helps in giving a fair judgement of its cruising range.
BOOT CAPACITY

The Altis has a fairly large boot of 470 litres which can hold significant amount of luggage.
SAFETY FEATURES
Dual Airbags, ABS, EBD, Brake assist, Immobilizer and Jam protection windows is standard across the range. The top spec also gets Reverse camera, Reverse sensors, Auto anti-glare mirror, etc.
COLOUR OPTIONS: 7 Shades to choose from.
White Pearl Crystal Shine, Silver Mica Mettalic, Grey Metallic, Blue Metallic, Champagne Mica Metallic, Super White II and Celestial Black.
SERVICE INTERVALS: The car needs to be serviced after every 10,000 kms.
WARRANTY: 3 Years/ 100,000 kms.
The Good, Not So Good & Our Wish List.
The Good
1) Striking looks and active stance.
2) Roomy and comfortable cabin
3) Ride and handling is unflawed
4) High ground clearance of 180mm
5) Awesome Headlights
6) Keyless entry and Go.
7) Advanced 7 speed CVT-i Transmission with Paddle shift
8) Reclining rear seats
9) Driver seat with 8 way electric adjustment & lumbar support
10) Easy ingress and egress
11) Large 470 litre boot swallows significant amount of luggage
Not So Good
1) Chrome quality on the exterior could have been better
2) Door mirrors are a size small
3) Overall plastic quality lacks the feeling of opulence
4) Only 2 Airbags against the customary 6 in the segment
Our Wish List
1) Sunroof
2) Rear-Window sunshades (Rear windscreen sunshade is provided)
3) Cooled glove-box
4) Six airbags
5) Lane departure signal
VERDICT
We found the latest avatar of Corolla Altis to be a smart looking executive sedan with a refined engine, an advanced CVT transmission and superior levels of comfort. There is nothing that feels inadequate about this car except the fact that Toyota has skimped on the customary 4 to 6 airbags and ESP which the segment demands.
On the pricing front the Corolla may appear expensive but in this segment, brand value scores higher than a value-for-money proposition and a brand like Toyota surely commands a premium. So while the VW Jetta may feel charismatic or the Renault Fluence may display elegance and the Skoda Octavia may exude opulence, all these brands are crippled with issues of repute, ownership costs and residual value.
However, we have to admit that the newly launched Hyundai Elantra may pose a threat to the Altis. But historically even though the earlier Elantra was priced lower and loaded to the gills, it was the Corolla which topped the charts month after month.
Toyota also seems to understand that many customers in this segment will get behind the wheels on weekends while otherwise occupying the rear seat with a chauffeur dealing with the erratic traffic. So its orientation is more towards excelling on rear seat space and comfort rather than on sporty driving dynamics.
We conclude by saying that it is not easy to beat a car that has been in continuous production for the past 50 years. And the fact that 80% of Toyota cars sold 20 years ago are still on the road bears testimony to the durability of Toyota products.
Add to this the legendary Toyota traits of quality, reliability & dependability and now you will know what makes the Corolla such a special car in its class. So, if you want a car that's practical, comfortable and reliable while promising years of stress-free ownership, then the Toyota Corolla Altis is exactly what you need.
Technical Specifications
Engine description
Petrol

16 Valve, DOHC, Dual VVT-i (Dual Variable Valve Timing – Intelligent)

Diesel

D-4D with Variable Nozzle Turbo and Intercooler,

Cc
1798
1364
Power
103 kW @ 6400 rpm
65 kW @ 3800 rpm
Torque
173 Nm @ 4000 rpm
205 Nm @ 1800-2800 rpm
Transmission
6 Speed Manual
Super CVT-i with 7 Speed Sequential Shiftmatic
6 Speed Manual
Dimensions
Overall Length x Width x Height – 4620 mm x 1775 mm x 1475 mm
Wheelbase-2700 mm
Turning Radius – 5.4 m
Fuel Tank Capacity- 50 Litres
Boot Space- 470 Litres
Photo Gallery